Cooperation with the French starts in Lebanon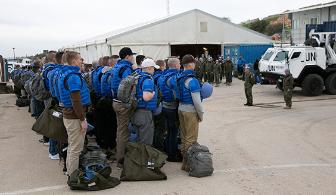 The main parts of the reinforcement detachment to the contingent of Finnish peacekeepers in the UN-led UNIFIL Operation in Lebanon are projected to the area of operation on 22 March 2017.
Finland increases its contribution to the operation with the strength of approximately 160 soldiers in response to the request for assistance by France in November 2015 allowing for replacing a French company and enabling the reallocation of the French force in the operation's Force Commander Reserve (FCR). On 14 October 2016 the president of the republic decided on Finland's contribution.
The Finnish reinforcement detachment starts operating as part of the French FCR on 1 April 2017. The Finnish composition joining the FCR comprises a Jaeger Company of around 160 soldiers, staff officers and a support element. Unlike the rest of the Finnish Crisis Management Contingent in Lebanon, the peacekeepers of this Jaeger Company serve on four-month rotations.
The tasks of the FCR equal those of the Irish-Finnish Battalion (IRISHFINBATT) involving patrolling, guarding and observation as well as protecting convoys. In addition, FCR tasks include the training of the Lebanese Armed Forces and functioning as the reserve battalion in the UNIFIL area of responsibility and, in case necessary, being prepared to react to threats to the UNIFIL units by reinforcing other troops in the area. Therefore both the capability and armament of the battalion are versatile and suited for the implementation of demanding tasks. The personnel functioning in the FCR have been trained, among other things, in force control and the use of different weapons systems.
Finland continues to function as part of the IRISHFINBATT. As of April 2017, the Finnish Crisis Management Contingent in Lebanon (SKJL) consists of the Jaeger Company of the IRISHFINBATT, its HQ elements and support elements as well as the Jaeger Company of the FCR and its support elements. The participation in the FCR increases the overall strength of the Finnish contingent again to approximately 340 peacekeepers serving in Lebanon from 1 April 2017 to 31 August 2018.
In accordance with its mission, the UNIFIL assists the Lebanese population by creating a safe and stable environment in its area of operation. This also includes ensuring that humanitarian aid is effectively delivered. The operation coordinates its tasks with the Lebanese and Israeli governments.
Participation in the operation supports developing the crisis management capability of the Finnish Defence Forces' and, in particular, contributes to enhancing the competence of reservists as regards requirements set both by national defence and international tasks.