Applying for Voluntary Military Service for Women Closes on 1 March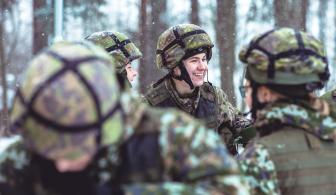 Applying for women's voluntary military service closes on 1 March 2018. This applying phase welcomes applications for both the contingents of the year 2019 as well as the contingent of July 2018 with its limited number of positions available.
Women are eligible for applying to serve in all the services, branches and special operations forces. The application with the supporting documents must have arrived in the regional office that the applicant's home municipality belongs to no later than 1 March 2018. Please double-check your regional office here.
The service entry requirements include the Finnish citizenship, 18-29 years of age at the start of service as well as a good state of health and personal suitability for military training.
Become familiar with voluntary military service for women by watching the tv-series Naissotilaat [Female Soldiers] by Yle in Yle Areena available here.
Or take a look at the service experiences of Corporal Seil Pihanurmi: Voluntary military service for women - it is the attitude, physical stamina and determination that matter.
Read more about voluntary military service for women: varusmies.fi