Blog of the Commander of the Finnish Army:
Outpost of Defence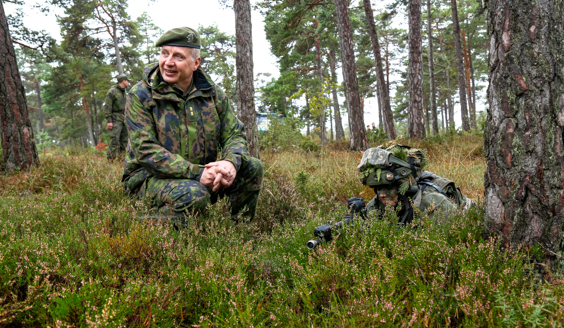 In the changing security environment, the Finnish Army's conscript-based readiness units have been set up to serve as an outpost of our defence.
Puolustuksen etuvartio -nimitystä käytettiin aikoinaan myös talvisodan suojajoukoista, jotka nekin perustuivat varusmiehiin ja palkattuun henkilöstöön. Ei siis mitään uutta, mutta uudistettua
Way back, this particular reference to the outpost of defence used to denote the force protection units of the Winter War that also relied on the contribution of both conscripts and salaried personnel. Although nothing completely new as such, this concept now stands for something renewed in its approach.
It is very wise indeed to utilise the types of assets that we are constantly able to access as readiness elements. In the aftermath of the cold war ending, this wisdom withered but is now reawakening again. It is conscripts and women completing voluntary military service who represent an asset that is worth utilising optimally. This in turn serves as yet another indication that general conscription functions and offers versatility.
Comprising the key capabilities of the Finnish Army, the readiness units cover all the branches and functional fields. In fact, this concept created has also contributed to enhanced inter-branch cooperation. Based on the experiences accrued, the readiness unit concept continues to be subject to development. The only constant that remains is that we are on the right track that will be strengthened and broadened.
Obviously, the Finnish Army never operates in a vacuum. Thus the support provided by the Navy and Air Force as well as logistics for the Army readiness units form a critical part of the joint capability. Furthermore, training and honing the functioning of this entity becomes feasible as part of the exercises conducted – and in major exercises and drills in particular. For instance, the Uusimaa 17 main exercise that was just finished set a well-functioning use case example of such joint cooperating.
The first ever readiness unit age group is about to muster out. Over the course of this past year, I have observed readiness unit training and talked with conscripts and salaried personnel serving in these units thereby witnessing the presence of motivation, eagerness and professionalism endorsed without exception. My own observations are corroborated by the feedback questionnaires that report the high level of commitment sustained.
As Christmas approaches, the first readiness unit age group now relays the readiness responsibility to its followers. Although this responsibility for sustained readiness is heavy to bear, the troops remain well trained and ready to take upon the substantial task of upholding the outpost of defence. My trust in readiness units as well as all the conscripts and salaried personnel remains unfaltering.
Commander of the Finnish Army
Major General Petri Hulkko