The Guards Band 200 Festival
Thursday 13.6.2019 – Sunday 16.6.2019
Celebrating its bicentenary this year, the Guards Band will organise, among others, a festival weekend that takes place in Helsinki in June. Over the course of this weekend, music will play at market squares, on the ferry, in the parks, and even in a sauna.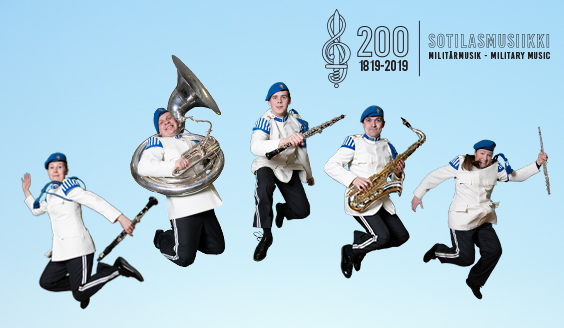 This year marks the bicentenary of the founding of the Guards Band. To celebrate this anniversary year, the Guards Band wants to highlight special moments reflecting its history and to commemorate those individuals who have impacted on its activities.
Over the weekend of 13-16 June 2019, the Guards Band 200 Festival will feature versatile and proficient performances ranging from sauna concerts to figure marching in the centre of Helsinki and in Suomenlinna. The programme will be the responsibility of the Guards Band and visiting Bands featuring top vocalists. On Friday 14 June, the Big Band concert will feature a major refresher training exercise of the military music field.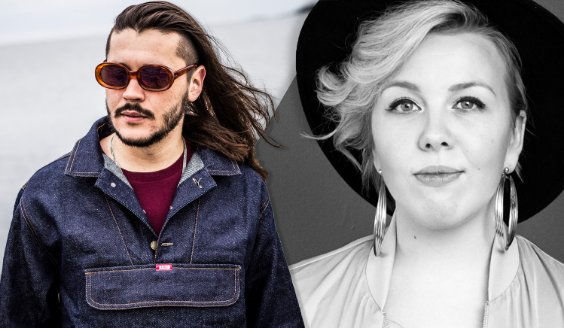 In conjunction with the Festival, the Finnish Defence Forces' Summer Tour concert will be organised on the parade grounds of Suomenlinna on Saturday 15 June at 18:00 featuring the Navy Combo with rap artist Adi L Hasla, the Guards Combo with Heini Ikonen as the soloist as well as the Show Band of the Finnish Defence Forces' Conscript Band, presented by Minna Ruolanto. This event will also allow for familiarising with a static display of Finnish Army equipment, visiting Soldiers' Home canteen sales points and discussing matters relating to conscript service with representatives of service personnel, conscripts and women undertaking voluntary military service.
The events will be free of charge except for the Karelian Swing concert on 14 June and the sauna concerts on 15 June. Arrivals in Suomenlinna by ferry in accordance with Helsinki region public transport timetables and fares.
Warmly Welcome!
The Guards Band will celebrate its bicentenary
Concert Calendar of the Guards Band
Programme
Thursday 13 June2019
19:00 Chamber music concert, Balder Hall
Friday 14 June 2019
12:30 Guard's Parade, Senate Square-Main Guard-Barracks Square, The Guards Band and The Navy Band
14:00 MIL-Espa, Esplanadi Stage, The Navy Band
18:00 Big Band Concert, Suomenlinna Parade Grounds, The Reservists of the Guards Band led by Antti Rissanen
20:00 Karelian Swing (Tickets 15 €), Levyhalli Hall (Suomenlinna), Antti Sarpila and the Guards Brass Septet
21:00 Encore, Mastovaja Shed (Suomenlinna), The Reservists of the Guards Band
Saturday 15 June 2019
11:00-22:00 Equipment Exhibition, Suomenlinna Kasinopuisto
11:00 Children's Concert: The Town Musicians of Bremen, Levyhalli Hall (Suomenlinna), The Guards Wind Quintet and Kari Ketonen as the narrator
12:00 Parade and Figure Marching, Augustin Ehrensvärd's Memorial - Suomenlinna Parade Grounds, The Guards Band and the Conscript Band of the Finnish Defence Forces
13:15 Sing Along Concert, Suomenlinna Parade Grounds, The Conscript Band of the Finnish Defence Forces
14:00 (Women) and 16:00 (Men) Sauna concert, (Tickets 15 €), Naval Academy's sauna, Ona Kamu and The Guards Band
14:00 and 16:00 Musical Walking Tour, Suomenlinna centrum
15:00 Throughout the Ages - Military Music Since 1819, Levyhalli Hall (Suomenlinna), The Guards Band Detachment
18:00 The Finnish Defence Forces' Summer Tour, Suomenlinna Parade Grounds, The Guards Combo, The Show Band of the Finnish Defence Forces' conscript Band, and the Navy Band
21:30 Encore, Mastovaja Shed (Suomenlinna), The Conscript Band of the Guards Band
Sunday 16 June 2019
14:00-17:00 Equipment Exhibition, Suomenlinna Kasinopuisto
15:00 Concert in the Park, Suomenlinna Parade Grounds, The Guards Band
Target groups: citizens
---