The national Independence Day parade
Friday 6.12.2019 at 9.00 – 15.00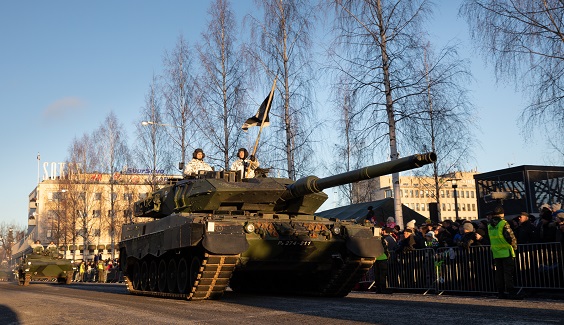 The national Independence Day parade will be held in Tampere on 6 December 2019.
Comprising troops from the Finnish Army, Navy, and Air Force, National Defence University, Finnish Border Guard, Finnish Defence Forces Logistics Command as well as veterans' and national defence organisations, the parade will include a total of circa 1,300 persons and more than 50 vehicles. The pass-in-review will also feature a heritage cavalry detachment of the Tampere Region Cavalry Guild Association.
The parade troops will be reviewed by Deputy Chief of Staff Logistics and Armaments, Lieutenant General Timo Rotonen, and the field devotional in the review of troops will be held by Field Bishop Pekka Särkiö. The parade troops will be commanded by Deputy Chief of Staff Army Operations, Brigadier General Rami Saari.
Independence Day programme:
at 09.00 Wreath laying ceremony at Kalevankangas Cemetery
at 10.00 Lutheran Service at Tampere Lutheran Cathedral
at 12.00 Review of troops at Ratina Stadium
at 13.00 Pass-in-review on Tampereen valtatie
at 09-15 Equipment display in Ratinanniemi
Please arrive in good time for the review as the troops will start forming up at around 11.30. Come along and celebrate Finland's independence with us – the events are free of charge! Updated information on the parade day events and traffic arrangements will be available online at https://puolustusvoimat.fi/en/parades.
Target groups: media, citizens
---