International cooperation in cyber operations strengthened in Finland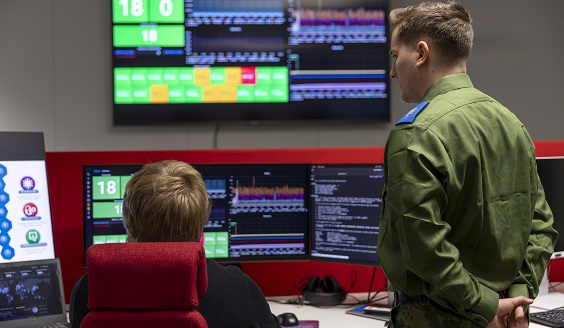 The advancement of information technology and the digitalization of society have changed the threat environment. The volume of threats has increased with the advancement of the international cyber domain accentuating the importance of international cooperation. Multinational cooperation in cyber operations was strengthened in a planning and exercise event held in Finland from 11 to 15 September 2023. The event was attended by experts from Finland, Sweden, the United States and Great Britain.
A cyber attack targeted at an information society such as Finland may cause great harm to the critical infrastructure of society, including traffic, electricity and health care systems. In other words, cyber security plays an important role in society's comprehensive security. The cyber domain is part of the military operational environment. The Finnish Defence Forces is prepared to respond to the threats of the cyber world as well. Cyber defence was recently trained in the Jaeger Brigade's local defence exercise. It tested the concept of local cyber defence, the local cyber section's operational procedures and principles, techniques and cooperation between different actors.
Even if cyber attacks tend to be local in nature, the cyber environment is global, and international cooperation is therefore an absolute requirement for operations. Continuous multi-national cooperation enables regular data exchange and sharing and harmonization of best procedures.
The cyber operations planning and training event hosted by Finland developed cooperation together with international partners and allies. In the course of the week, a scenario was trained involving the cyber troops planning and executing an extensive defensive cyber operation together. The objectives of the event were achieved successfully.
– Our countries have been pursuing cooperation for a long time also in the area of cyber defence, and Finland's NATO membership strengthens it even more. Our shared competence is high level, and we have the readiness for operating also in very demanding scenarios. Active training is very important for maintaining this readiness, says the director of the event Lieutenant Colonel Jussi Tuovinen from the Defence Command C5 Division.
The event held in Finland was a continuation of a previous, more technical-level event organized in Ramstein, Germany from 6 to 10 February 2023.
– Last time, we trained more at a technical level, and this time around, we looked at a slightly bigger tactical and operational picture in cyber defence planning and execution with international allies and partners. Cooperation has to work at all levels, Tuovinen sums up.