Regional combat exercise METSO 16
The regional combat exercise METSO 16, led by Kainuu Brigade, will take place in Vuosanka, Kuhmo, from 3 to 10 June 2016.
The objective of the exercise is to enhance the operational capabilities of the units to operate according to the reformed land warfare doctrine. The exercise will involve approximately 3, 600 persons, including conscripts, reservists and salaried personnel from the Kainuu Brigade, Jaeger Brigade, Utti Jaeger Regiment and Lapland Border Guard. A Swedish Norrbotten Regiment's detachment will participate in the exercise as part of the two armies' bilateral cooperation.
Exercise METSO 16 is the final exercise for the conscripts trained for rank- and file duties in the January contingent of 2016 and for the conscript leaders who started their service in July last year. The troops are equipped with a two-way combat simulator system. The exercise is led by the Commander of Kainuu Brigade, Colonel Vesa Virtanen.
The Swedish Norrbotten Regiment takes part in the exercise with a mechanized infantry platoon, with a strength of approximately 50 soldiers. The main exercise equipment of the Swedish detachment consists of CV9040 infantry fighting vehicles and other transport vehicles.
The exercise is carried out as part of the bilateral cooperation between Finland and Sweden aiming to enhance the interoperability and operational capabilities of the units as well as to create cost-effective exercise and training possibilities. The Finnish Ministry of Defence has approved the exercise as part of the Finnish Army's international exercise activities for 2016.
METSO 16 is the first exercise led by Kainuu Brigade in which the Norrbotten Regiment will participate. Previously Norrbotten Regiment's troops have trained together with the Jaeger Brigade in Rovajärvi and in Boden in 2015.
News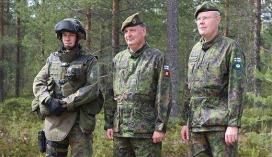 The regional combat exercise METSO 16, that has been ongoing since Friday, has gathered almost 3 600 soldiers to train in Vuosanka. The Commander of the Finnish Army, Lieutenant General Seppo Toivonen inspected the exercise and its units on Tuesday.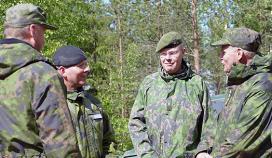 The commander of the Swedish Norrbotten Regiment colonel Mikael Frisell visited LIVEX METSO 16 in Kainuu, Finland.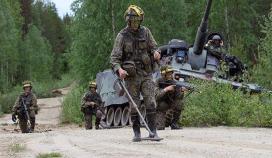 Exercise METSO 16, that is presently ongoing in Vuosanka, is a truly the place to shine for the troops involved. In addition to the exercise being the final exercise for some of the conscripts, also the international cooperation present has boosted the motivation and morale of the units.