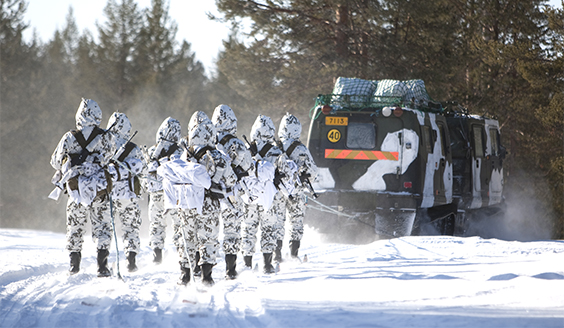 Jaeger Brigade - About us
The Jaeger Brigade trains troops for Northern Finland's demanding circumstances and units specialised in regional combat in the Lapland area.
The Jaeger Brigade is in charge of ordered tasks involving readiness and operational tasks; it maintains constant readiness to provide support for other authorities.
Annually, the Jaeger Brigade trains around 2,200 conscripts and voluntary female conscripts.
The Brigade employs around 400 persons.
The Jaeger Brigade carries its social responsibility by providing assistance to other authorities some 70 times a year.
Colonel Kimmo Kinnunen is the Commander of the Jaeger Brigade.
Jaeger Brigade organisation
The Jaeger Brigade consists of two battalion-level units; the Lapland Jaeger Battalion in Sodankylä and the Rovaniemi Air Defence Battalion in Rovaniemi. The organisation also comprises the Jaeger Brigade Headquarters located in Sodankylä, and the Lapland Regional Office and Lapland Military Band in Rovaniemi operating under the Second in Command.
Jaeger Brigade Headquarters
The Headquarters acts as the Commander's command cadre, and performs those military and administrative tasks that are required of it as the local military and administrative authority.
Lapland Jaeger Battalion
In addition to its Headquarters, the Lapland Jaeger Battalion comprises five company-level units:
1st Jaeger Company,
2nd Jaeger Company,
3rd Jaeger Company,
Support Company and
Logistics Company
Rovaniemi Air Defence Battalion
The Rovaniemi Air Defence Battalion comprises its Headquarters and three company-level units:
1st Air Defence Battery,
2nd Air Defence Battery and
The Airbase Support Company
Lapland Military Band
The duties of the Military Band include, in addition to performing music at the Defence Forces' events, contributing to the musical culture of Lapland themed with Lapland's nature, the indigenous culture's folk music and ethnic nuances. The Lapland Military Band's versatile and open programme makes it an actor with a personality in this culturally rich and interactive environment.
Lapland Regional Office
The Regional Office manages conscription matters and makes administrative decisions involving persons liable for military service living in the Lapland area.
Training
The Jaeger Brigade trains personnel for jaeger, mortar, headquarters, logistics, anti-tank, anti-tank missile, ranger, reconnaissance, military police and ground-based air defence troops according to the FDF wartime organisation.
Annually, in addition to its own personnel, the Jaeger Brigade trains personnel from the Defence Forces' different units and military personnel from other countries.
Training areas
The Jaeger Brigade has excellent circumstances for training in its training areas. These include Mellankangas in Sodankylä, the Kyläjärvi range area and the garrison training area in Rovaniemi and the Pahkamaa range.
Larger-scale live fire and combat exercises can be carried out in Rovajärvi, Western Europe's largest range.
National ground-based air defence exercises are arranged in the Lohtaja range area, where all the Defence Forces' missile systems can be trained with. The Lohtaja area is under the administration of the Armoured Brigade.
Training activities can be conducted outside these areas on private grounds based, in each case, on thorough consideration and law.