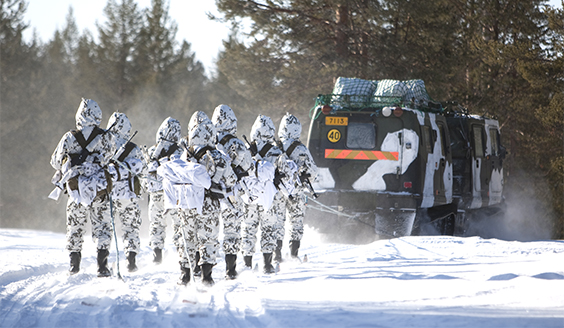 Jaeger Brigade - About us
The organisation of the Jaeger Brigade
The Jaeger Brigade comprises the Headquarters and the Lapland Jaeger Battalion in Sodankylä, the Rovaniemi Air Defence Battalion, the Lapland Military Band and the Lapland Regional Office in Rovaniemi.
Headquarters
The Command HQ acts as the Jaeger Brigade Commander's command cadre, and performs those military and administrative tasks that are required of it as the local military and administrative authority.
Lapland Military Band
The Lapland Military Band is the military band of northern Finland. The military band provides music and performs at the Defence Force's events and organises regular concerts in Lapland, Kainuu and Northern Ostrobothnia.
Lapland Regional Office
The Lapland Regional Office manages the conscription matters of people living in the Lapland region and makes administrative decisions concerning the conscripts.