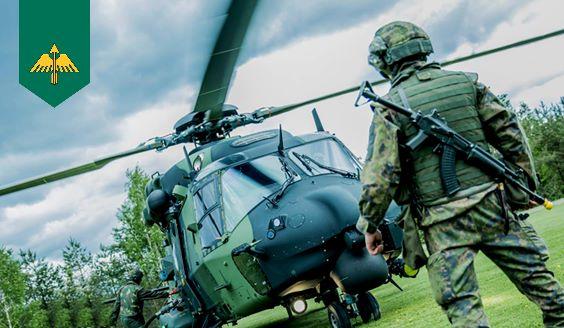 Facts about Utti Jaeger Regiment
Located in the district of Utti in Kouvola, the Utti Jaeger Regiment is home to the Special Forces Unit and the helicopter operations of the Finnish Defence Forces, along with branches that support these areas.
• hired personnel 460
• conscripts 220
• approximate number of executive assistance tasks per year 40
The regiment undergoes training and preparation to operate throughout the country. The most visible part of our operations is formed by the NH90 tactical transport helicopters and MD500 light helicopters. We train together with all Army forces as well as Navy and Air Force units. In addition to this, we cooperate closely with other security authorities, such as the Police and Border Guard.
The regiment's Helicopter Battalion maintains round-the-clock readiness to use its NH90 transport helicopters to support other authorities. If necessary, we also take part in other executive assistance tasks.
The Utti Jaeger Regiment has been a reliable operator in international military crisis management for a number of years. We have participated in crisis management operations in numerous locations, such as Afghanistan and Kosovo, and been part of EU battle groups and NATO rapid response forces.
Regiment composition
In addition to the HQ, the regiment comprises the Special Jaeger Battalion, Helicopter Battalion and Support Battalion.
The Special Jaeger Battalion is responsible for training the Army special forces combatants. The Paratrooper Company handles the training of conscripts while the Special Jaeger Company is in charge of honing the skills of the Special Jaeger NCOs, who are part of the hired personnel. The training is provided in close cooperation with the Special Forces Qualification Course of the Defence Forces.
The Helicopter Battalion is responsible for the helicopter operations of the Defence Forces. All 20 of the NH90 tactical transport helicopters and seven MD500 light helicopters are located in Utti. The battalion is responsible for type training and further education of the helicopter personnel.
The Support Battalion is responsible for a variety of logistics operations for the regiment. The Support Company trains conscripts for support tasks that require special expertise.