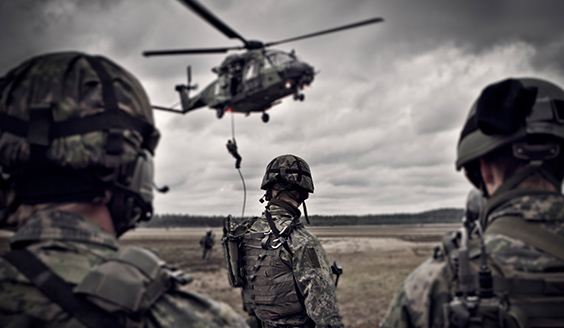 Army
The Army defends the entire land area of the state and executes all three of the Defence Forces' tasks.
The defence of Finland's territory is based on the large reserve created by general conscription. Annually, the Army's eight brigade-level units train around 20,000 conscripts. Refresher exercises, which maintain reservists' skills, involve thousands of reservists each year.
The Army carries its social responsibility by providing assistance to other authorities some 400 times a year.
The Army leads the majority of the military crisis management operations that the Defence Forces are involved in. It also trains and equips forces for crisis management tasks.
Tasks of the Army
Defending Finland's land area

Providing support to other authorities

Providing and receiving international assistance

Participating in international crisis management operations
The Army's wartime troops, 180,000 soldiers
Operational units
Demanding mobile battle missions in the entire country
Good equipment
Direction of the main effort
Regional units
Causing losses for the opponent, controlling areas (reformed land warfare doctrine)
Task-specific equipment
Central areas
Local units
Protecting targets, mobilising troops, cooperating with other authorities
Light equipment
Cover the entire country
The personnel strength of the Army
Salaried personnel
4 380
Soldiers
Civilians
3 610
770
Conscripts
18 400
Of which voluntary women
1 000
Reservists
18 400
Taking part in refresher training
Taking part in voluntary exercises


13 100
5 300



Crisis Management Operations
760
Of which reservists
515
Army equipment
Main battle tanks
Leopard 2A6
Leopard 2A4
200
100
100
Mechanised infantry combat vehicles
CV9030 FIN
BMP 2M
200
100
100
Armoured personnel carriers
700
Tracked vehicles
1200
Field guns
800
Transport helicopters
20