The mechanised exercise of the Finnish Army (Arrow 17)
Exercise Arrow 17, led by the Finnish Army's Armoured Brigade, will take place in Pohjankangas, Niinisalo, Finland, from 2 to 13 May 2017.
The objective of the exercise is to enhance interoperability and capability of mechanized units in offensive combat.
Involving active duty personnel and conscripts from the Armoured Brigade, Pori Brigade, Karelia Brigade, Uusimaa Brigade, Jaeger Brigade and Utti Jaeger Regiment as well as the Army Academy, the Finnish Army's mechanised exercise operates with the total strength of approximately 2200 persons. The exercise will be led by Colonel Pekka Järvi, Commander of the Armoured Brigade.
Among the exercise equipment there will be around 130 armoured vehicles and 300 other vehicles. Furthermore, helicopter activity will take place in the exercise area. The live exercise phase involves the Finnish Air Forces flying exercise fighter missions. The live fires exercise phase will be followed by an artillery firing exercise, Nuoli 17, led by the Pori Brigade in Niinisalo until 20 May 2017.
The exercise brings to Finland a reinforced US Army Europe infantry company of approximately 125 soldiers equipped with armoured Stryker personnel carrier vehicles as well as a Norwegian Brigade North mechanized platoon of approximately 50 soldiers equipped with CV90 infantry fighting vehicles. In addition, the exercise will include an instruction session on armour tactics with participants from Sweden, Denmark, and Estonia.
An annual national exercise complying with the Finnish Army's Action Plan, the Finnish Army's mechanised exercise has been open to other international partner nations' exercise detachments since 2014. The Finnish Ministry of Defence has approved the annual exercise Arrow 17 as part of the Finnish Army's International Exercise Activities for 2017.
The Arrow 17 mechanized exercise of the Finnish Army took place in Niinisalo from 02 to 13 May 2017.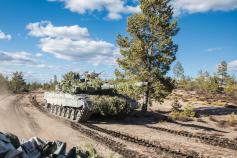 Arrow 17 is the final manoeuvre for many conscripts. There are also conscripts from Norway taking part in the exercise.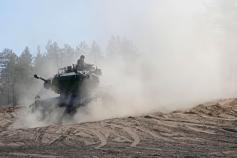 An international exercise is cooperation between troops, countries and different branches. The Arrow 17 exercise forms a base to practice cooperation and compatibility, and to further develop those areas. The level of tactical knowledge increases when practicing together.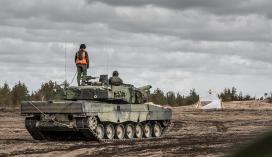 All the new capabilities of the Finnish Army are in commission within the Arrow 17 exercise. The new Leopard 2 A6 battle tanks, BMP-2 MDs and unmanned aerial vehicles enhance mobility, effective engagement operations and situational awareness of the Finnish Army. The Commander of the Häme Armoured Battalion, Lieutenant Colonel Juhana Skyttä tells that the achieved experiences have been excellent.