Comprising approximately 1,500 Finnish Army troops in its composition, a battalion battle group now undertakes training as part of a Swedish brigade in the exercise Northern Wind 2019 organised by the Swedish Army in Norrbotten, Northern Sweden. By undertaking combined training we enhance the interoperability capability of the Finnish and Swedish troops and accrue readiness in providing and receiving international assistance as well as develop the planning and preparing process concerning combined exercises.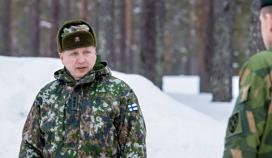 Commander of the Finnish Army, Lieutenant General Petri Hulkko inspected the Finnish exercise troops participating in the exercise Northern Wind 2019 in Northern Sweden from 18 to 20 March 2019. The exercise organised in Norrbotten is so far the most substantial bilateral training exercise of the Finnish and Swedish Armies.
Participated by troops from four Finnish Army brigade-level units totaling altogether approximately 1,500 personnel and some 500 military vehicles, the exercise Northern Wind 2019 represents the most sizeable exercise that the Army has conducted overseas over the past years. Conducting planning for logistics and service support measures will ensure that the troops remain able to start and accomplish the set mission as planned. In this exercise, undertaking training presupposes that substantial preplanning has been carried out by varying branches of the Finnish Defence Forces.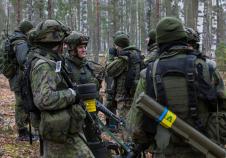 Part of Finland's defence system, local defence is implemented by local units comprising local actors knowledgeable about the specific features of their given locality. During excep-tional conditions, these local units become organised as local battalions mobilised while raising readiness.