Applying to voluntary military service for women becomes easier as the E-service opens on 20 April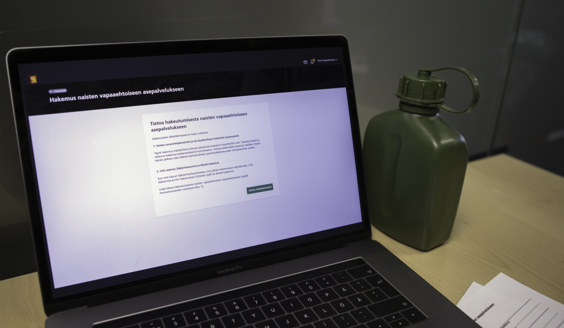 The threshold for applying to the voluntary military service for women will be lower as the E-service becomes available on 20 April 2021. The aim is to make applying easier and to increase the number of applications to the voluntary military service for women. The possibility for submitting the application via the E-service has already increased the number of applications submitted for the other tasks available in the Finnish Defence Forces.
The application reform also simplifies the access to relevant information as the E-service guides the applicant all the way in filling out the application and thereby makes the paper version redundant.
From week 16 onwards, the application form with documentation attached can be submitted online at the Finnish Defence Forces' E-Service available at https://asiointi.puolustusvoimat.fi/. At logon to the E-service, verification requires mobile banking identification, electronic identification card, or mobile certification.
Submitting the application involves two phases:
1. First, replying to the questions relating to conscript service and one's state of health, and saving the draft version
In the first phase, the applicant provides in the E-service answers to the questions relating to service and state of health. Then the applicant saves the draft version and prints it out, as well as books a medical examination by a medical practitioner. The print-out of the draft application version needs to be brought to the medical check as well.
2. Second, attaching the medical statement to the application, and submitting the application
Following the medical examination, the applicant accesses the E-service again and attaches the medical statement to their application. This done, the application with its documentation is ready for submitting. The application with documentation attached must be submitted by 1 March.