Constant readiness and local defence at the centre of the operations of the Finnish Army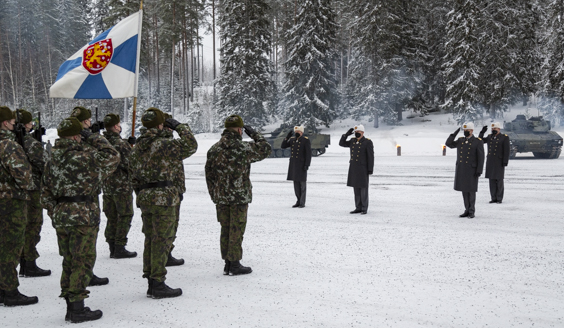 The Army Commander Change of Command Ceremony took place today, on 30 December, in Mikkeli.
Lieutenant General Pasi Välimäki will begin as Commander of the Finnish Army. He has been the Deputy Chief of Staff Operations since August 2019. Lieutenant General Petri Hulkko, who led the Finnish Army since August 2017, will enter the reserve.
– I welcome the Finnish Army, which have developed significantly in terms of both readiness and performance. The ability of the Finnish Army to respond to rapidly developing military threats and exceptional situations in normal conditions has been improved. Both high-level readiness unit activities and Training 2020 practices have been introduced in the training, said Lieutenant General Välimäki in his speech.
The change in the international security environment places significant demands on the Finnish Army. It must be possible to regulate operations flexibly and in accordance with the situation.
- We should look for solutions, specify plans and keep the task clear when we solve the challenges ahead of us. Innovation and leadership are needed at all levels.
The implementation of the Government Defence Report policies will be launched during the Commander term of Lieutenant General Välimäki.
- Practical planning of local defence and the development of the intended troops and performance will be very interesting and rewarding. Local specificities and expertise – local authorities and reservists – are taken into account, says Välimäki.

Conscription is in the interests of the society as a whole
In his speech, Lieutenant General Petri Hulkko summarised his term of office in three points.
- With regard to preparedness, we have developed a cost-effective system that is functional and credible in a security environment that is difficult to predict. COVID-19 has given new perspectives on, for example, training arrangements. International cooperation has become part of everyday life in a positive sense. In particular, army cooperation between Finland and Sweden has expanded to cover all areas, from material cooperation to exercises and operational planning.
Lieutenant General Hulkko mentions meetings with conscripts as the highlights of his term of office.
- It never seizes to amaze me how conscripts are able to master military skills at a rapid rate, or how reservists are able to combine civilian and military expertise. We must continue to do all that we can to ensure that as many Finnish men and female volunteers as possible start their military service and complete it with honour. This is not only a demand arising from a military need, but it is also in the interests of society as a whole.
In his speech, Lieutenant General Hulkko thanked the motivated and skilled personnel of the Finnish Army, enabling the development of the defence branch.
- The Finnish Army is in a good shape. This is both a professional soldier's absolute estimation of his own unit, as well as my widely recognised subjective interpretation of the Finnish Army.
The celebrations of the Ground Forces Commander change of command ceremony included revealing the portrait of the outgoing commander, Lieutenant General Hulkko, and an exchange review in Karkialampi, Mikkeli. All brigade-level units of the Finnish Army were represented in the exchange review.