Air Defence Exercise 1/18 to begin in Lohtaja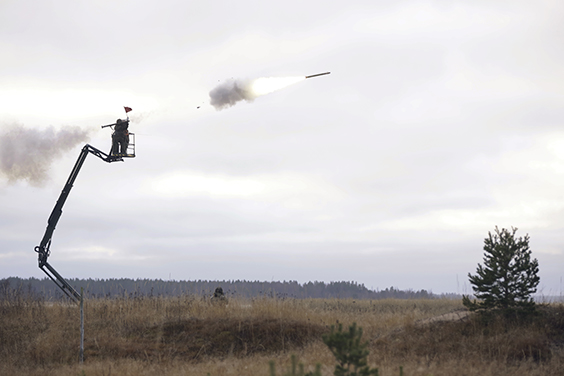 A national training exercise, the Air Defence Exercise 1/18 will be organised in the Lohtaja firing and military training area from 15 to 24 May 2018 and led by Inspector of Air Defence, Colonel Sami-Antti Takamaa.
This exercise's planning concerning command and preparations are the responsibility of the Air Force Academy supported by the Karelia Brigade. Sequenced in two consecutive phases, this exercise comprises a firing phase running from 15 to 19 May utilising live munitions, and a combat training phase extending from 20 to 24 May. The participants include units from all three services. Altogether, the total strength of the exercise adds up to approximately 1,500 persons.
The training objective of this exercise equals enhancing the competence proficiency of reservists, conscripts, and personnel in versatile tasks of ground-based air defence and air-to-air defence to facilitate honing skills related to given operational missions. Moreover, joint operating between the Finnish Army, Navy, and Air Force units remains subject to further development in tasks involving air defence.
It is possible to follow the training exercise online:
-facebook.com/maavoimat #maavoimat #ilmavoimat #merivoimat #karpr
-twitter.com/maavoimat #iph118 #maavoimat #ilmavoimat #merivoimat #karpr
-facebook Karjalan prikaati
-Twitter @KarjalanPR
-facebook.com/puolustusvoimat
-twitter.com/puolustusvoimat
-instagram.com/puolustusvoimat.fi
Motorised detachments of the training exercise will advance at the speed of 80 km/h in maximum from 14 to 19 May 2018 along the following roads:
Mon 14.5. at 8:00 - 20:00 (10 vehicles)
Vekaranjärvi -VT15 Ristiina - VT13 Mikkeli - Lievestuore - VT9 Vaajakoski - VT4 Jyväskylä - Hirvaskangas-VT13 Kokkola - VT8 Lohtaja - Vattajanniemi
Mon 14.5. at 8:00 - 17:00 (28 vehicles)
Someroharju-VT4 Rovaniemi-Oulu-Liminka-VT8 Raahe - Lohtaja - Vattajanniemi
Tue 15.5. at 7.30-17.00 (25 vehicles)
Vekaranjärvi-VT15 Ristiina-VT13 Mikkeli-Lievestuore-VT9 Vaajakoski-VT4 Jyväskylä-Hirvaskangas-VT13 Kokkola-VT8 Lohtaja - Vattajanniemi
Tue 15.5. at 9:30-13:00 (7 vehicles)
Tikkakoski VT4 Hirvaskangas-VT13 Kokkola-VT8 Lohtaja - Vattajanniemi
Tue 15.5. at 8:00-17:00 (5 vehicles)
Someroharju - VT4 Rovaniemi - Oulu - Liminka - VT8 Raahe - Lohtaja - Vattajanniemi
Wed 16.5. at 8:00-18:00 (15 vehicles)
Someroharju-VT4 Rovaniemi- Oulu-Liminka- VT8 Raahe-Lohtaja-Vattajanniemi
Hattula-VT3 Tampere-Jalasjärvi-KT19 Seinäjoki-Jepua-VT8 Kokkola-Lohtaja-Vattajanniemi
Thu 17.5. at 8:00-17:00 (20 vehicles)
Vekaranjärvi-VT15 Ristiina-VT13 Mikkeli-Lievestuore-VT9 Vaajakoski-VT4 Jyväskylä-Hirvaskangas-VT13 Kokkola-VT8Lohtaja-Vattajanniemi
Thu 17.5. at 8:00-16:00 (13 vehicles)
Hattula-VT3 Tampere-Jalasjärvi-KT19 Seinäjoki-Jepua-VT8 Kokkola-Lohtaja-Vattajanniemi
Fri 18.5. at 7:30-17:00 (10 vehicles)
Vekaranjärvi-VT15 Ristiina-VT13 Mikkeli-Lievestuore-VT9 Vaajakoski-VT4 Jyväskylä-Hirvaskangas-VT13 Kokkola-VT8 Lohtaja-Vattajanniemi
Fri 18.5. at 8:00-17:00 (5 vehicles)
Hattula-VT3 Tampere-Jalasjärvi-KT19 Seinäjoki-Jepua-VT8 Kokkola-Lohtaja-Vattajanniemi
Sat 19.5. at 8:00-18:00 (71 vehicles)
Hattula-VT3 Tampere-Jalasjärvi-KT19 Seinäjoki-Jepua-VT8Kokkola-Lohtaja-Vattajanniemi
Sat 19.5. at 8:00-16:00 (5 vehicles)
Hamina - VT7 Rantahaka-VT15 Kouvola - KT46 Heinola- VTJyväskylä-Hirvaskangas-VT13 Kokkola-VT8 Lohtaja- Vattajanniemi
Sat 19.5. at 8:00-17:00 (10 vehicles)
Someroharju-VT4 Rovaniemi- Oulu-Liminka- VT8Raahe-Lohtaja-Vattajanniemi