International cooperating facilitates fine-tuning also the competence of a mechanised unit with sustained striking capability as part of the exercise Arrow18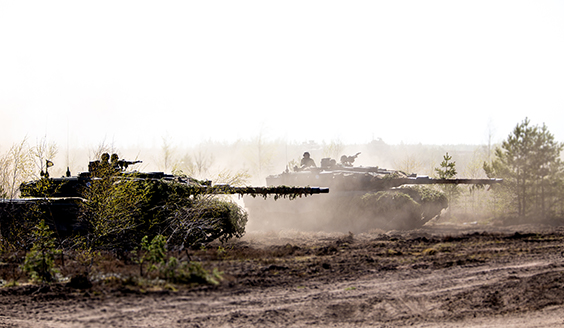 Mechanised units sport demanding training objectives. One of these involves cooperating with an international training exercise detachment. Overall, international training exercise cooperation results in significant benefits affecting competence proficiency both at the level of individual soldiers and that of the training exercise troops.
In the Finnish Defence Forces, the instruction and training of mechanised units remain the responsibility of the Kymi Jaeger Battalion of the Karelia Brigade and the Häme Armoured Battalion of the Armoured Brigade. Over this week, as part of the exercise Arrow18 in Niinisalo, the mechanised units of both of these brigade-sized units undertake training in cooperation with U.S. and Norwegian units.
According to Commander of the Häme Armoured Battalion, Lieutenant Colonel Jussi Toivanen, the exercise Arrow continues to be organised in Finland as of 2016 by relying on set grounds for implementing the training exercise. This year this exercise setting also features the U.S. Marine Corps' platoon of Abrams main battle tanks. The military training area in Niinisalo allows for advancing movement and deployment of major troops, which in itself is an advantage, compared to other training exercise areas, for instance, in Rovajärvi.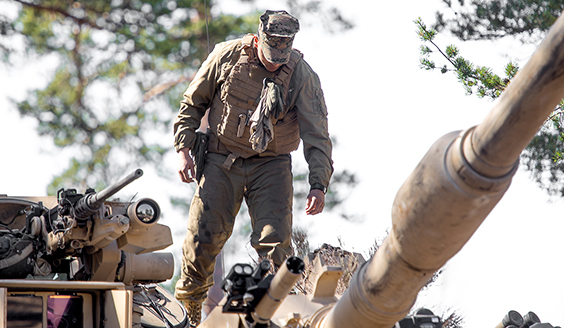 In this exercise, the main equipment of the Häme Armoured Battalion include the main battle tank Leopard 2A6 of the tank company, and the infantry fighting vehicle BMP-2MD of the Armoured Jaeger Company (Finnish modernisation update and digitalisation) as well as the Leopard-based bridge-laying and mine clearing armoured vehicles of the Armoured Combat Engineer Company.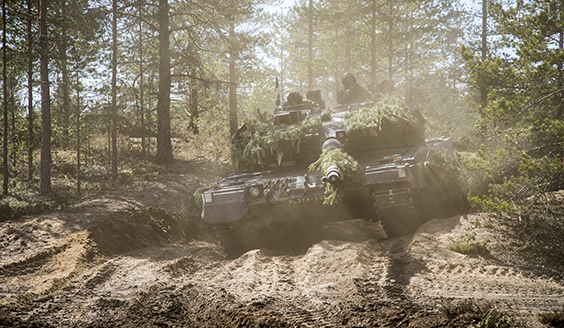 Firepower and mobility
As to Lieutenant Colonel Toivanen, a mechanised troop sustains substantial firepower combined with excellent tactical mobility, which both rest on the armoured fighting vehicle equipment in use. Apart from this, the striking capability of the troops draws from seamless cooperating that is complemented by joint effects targeting of various weapons systems, inter-branch cooperating, and concentration of troops' power as well as rapid implementation.
Moreover, the essential key elements include conducting reconnaissance, sustained indirect support fires, command, and logistics support. This exercise utlises a miniature unmanned aerial drone system (MUAS), an Orbiter 2b, which carries out area surveillance and forward observation. Similarly, logistics support continues to be seminal in that operating presupposes necessary flow of fuel and ammunition.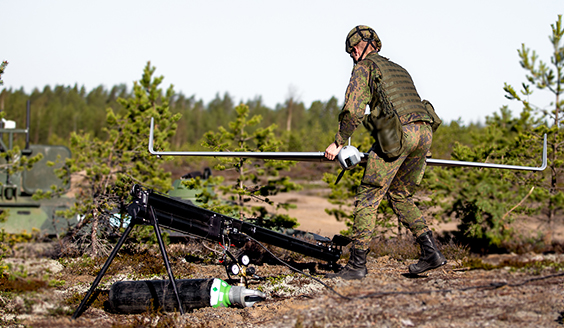 Demanding training obejctives
The exercise Arrow18 features a combat training phase and a firing training phase. Lieutenant Colonel Toivanen explains that the main objective in the combat training phase equals training the meeting engagement of a mechanised unit in the framework of a battalion battlegroup. As such, the meeting engagement or combat encounter represents an extremely demanding form of combat since both the parties are on the move. Therefore, it is mandatory that the companies and platoon detachments are capable of operating as part of a battalion battlegroup. Furthermore, from the viewpoint of the Häme Armoured Battalion, conducting training in cooperation with international troops remains essential.
During the firing training phase, the key instruction points include large-calibre firing by main battle tanks and long-range firing, whereas during the combat training phase simulators assume a significant role. Registering all movement, each launch and shot as well as the points of impact of mines and indirect fires, these simulators provide instant feedback to an individual battle tank or soldier on site, and simulator-recorded data on the training instances at the evening debriefings to the commanding officers.
Cooperating begins with covering the grounds for procedures
As pointed out by Lieutenant Colonel Toivanen, cooperating with international troops begins by outlining the common ground for procedures, since all nationalities have their own practices and procedures for, among others, guiding a battle tank, penetrating a minefield, and crossing a bridge. After all, when covering the grounds for procedural details, we also by the same token train operating in the given area, guiding, sustaining communications, and transmitting data to the troop operating alongside us.
Adding a new dimension to the training exercise setting, international cooperating presupposes that everyone masters the basics also as regards operating with an international troop. This translates into the capability for transmitting data, issuing orders and providing guidance to the partner nation's tank or detachment. The most challenging part in this cooperating involves making the command and control vehicles interoperable with each other. To this end, liaison officers with Finnish radio equipment ensure sustained lines of communication.
International cooperating results in learning outcomes and reference points
Lieutenant Colonel Toivanen concludes that sharing information and experiences will steer us in identifying the best practices that then will become implemented as part of our own operating. In addition, this cooperating serves as a type of set measurement tool that enables validating the training and competence proficiency levels of our own units. It is worth keeping in mind that the competence proficiency of Finnish conscripts continues to be of top quality although we may not always remember this validated fact when fully engaged in our daily activities.