Training environment in Kvarn, Sweden, develops combat effectiveness in a built-up area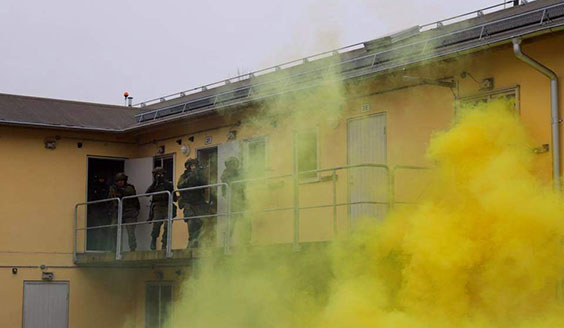 The Swedish Army's Combat Training Centre for Military Operations on Urban Terrain in Kvarn, Sweden, provides excellent training facilities for sustaining and developing our army land combat effectiveness in a built-up area.
While the main objective of the exercise Kvarn 19 involves improving the readiness and capability of the Guard Jaeger Regiment's readiness unit and urban jaegers in demanding combat missions conducted in a built-up area, the synergies benefitted by means of the exercise also deserve to be looked at more comprehensively.
– The exercise Kvarn develops our international interoperability and allows for undertaking training in troop mobilisation and troop concentration procedures for combat capable operating in international duties. Although the exercise is still in-progress, it is safe to say at this point that the training objectives set for this exercise are being well met, Exercise Director, Commander of the Uusimaa Jaeger Battalion, Lieutenant Colonel Petri Toivonen contently explains.
Previously in 2016-2018, the Guard Jaeger Regiment has thrice utilised this training environment that is the size of a small urban village agglomeration in Kvarn.
– Investing in continuing this training exercise tradition goes to show that there is no questioning about how this training area does benefit the training of wartime troops, Lieutenant Colonel Toivonen points out.
Over the past weekend, the troop transfer of around 200 soldiers from Finland to Sweden was swiftly conducted in cooperation with a shipping fleet operator. On the move, the troops first proceeded on a motor march from Helsinki to Naantali followed by overnight shipping from Naantali, bypassing the territorial waters of Åland, to Kapellskär in Sweden. From the Port of Kapellskär the troops then continued on a motor march for the remaining 350 kilometres to Kvarn located in the municipality of Motala.
Extensive feedback system sustains motivation and develops command and control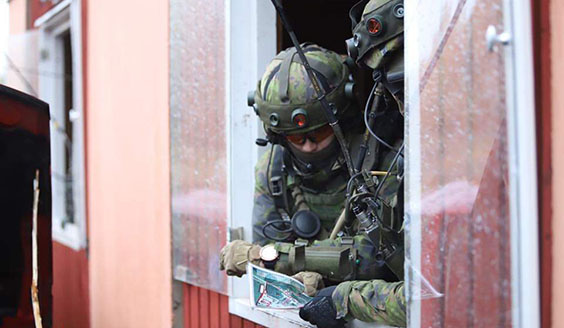 The FTX phase of the exercise Kvarn 19 has focused on company and platoon combat in built-up areas. During the course of altogether four full days, the detachment has enough time to train conducting different types of demanding offensive and defensive tasks in changing and versatile situations.
The simulation-assisted functionalities available in the 40-building-strong training area in Kvarn enable carrying out a realistic offensive under cover of indirect fire. Directed at buildings, the indirect fire effects are simulated by sound, light and smoke.
– Troop training conducted by relying on an extensive feedback system has sustained the trainees' high motivation level. Apart from developing the competence of the combat troops, also that of our instructors has advanced while operating in a three-dimensional operating environment in a built-up area. On urban terrain, distances and terrain contours set specific requirements both to individual combatants as well as command and control, Lieutenant Colonel Toivonen says.
The exercise troops currently undertaking training in Kvarn incorporate conscripts and salaried service personnel whereas Sweden provides professional technical support personnel. In the future, the Guard Jaeger Regiment aims to expand the exercise framework scenario from the company operating level to that of a battalion offensive in interoperable cooperation with Swedish troops.
– To sum up, the training environment here in the Spång training village in Kvarn with its simulators, video cameras and support personnel offers us a venue for exercising realistic combat in a built-up area, calibrated validating of troop capability and providing extensive feedback. For now, at least, we lack an equivalent training environment in Finland. This is why it is worth continuing this training exercise tradition in Kvarn by extending it in the spirit of FISE to include interoperability training with Swedish troops, Lieutenant Colonel Toivonen concludes.
Having started on Monday, the exercise's FTX phase with actively operating troops in the training area will continue all through Thursday. On Friday, the troops' after action review will be followed by disassembling and pre-march procedures. And, over the coming weekend, we will again put to the test our logistics capability by transferring the exercise troops back home to Santahamina.
Read more: