Local defence exercises strengthen common security – check the exercise activities in your area at the beginning of September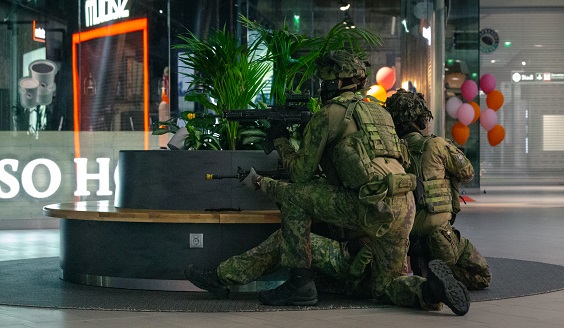 The Army will be training local defence across Finland 2–9 September 2022. The exercises will improve local troops' readiness to carry out local combat and protection tasks and strengthen the authorities' abilities to cooperate in situations of disruption everywhere in the country.
The series of exercises directed by the Army Command will include six exercises in different parts of the country. Approximately 6000 persons from the Defence Forces will take part in the exercises. In addition to the Defence Forces' reservists, conscripts and regular personnel, officials of cities, police, rescue services and the social affairs and health sector, actors in voluntary national defence as well as companies in the industry and energy sectors will be involved in the exercises.
Local defence is built and maintained together
Local security is built on common preparedness and training. In local defence exercises, the Defence Forces' local units train together with agencies and companies in the area in order to be prepared for any event of disturbance. The purpose of the training consists in being able to secure the vital functions of society, including traffic connections, energy supplies and operation of data networks, and preventing disturbances from spreading any further. The objective of the training is to ensure that the everyday life of the people living in the area remains as normal as possible in all situations and that, where necessary, they get instructions for what to do in case of disturbance.
– In local defence exercises, we develop leadership, information exhange and situation picture with other authorities and practise cooperation for eventual disturbances. This autumn, the exercises include, for example, themes related to civil defence, says Deputy Chief of Staff, Army Operations, Brigadier General Tero Ylitalo.
Progressive training for reservists
Local units strengthen the Defence Forces' readiness and capability across the territory. In emergency conditions, the tasks of local units include protection of strategic infrastructure, surveillance in the area and operating against the adversary's special units. In addition to the Defence Forces' service personnel, active reservists who know their area well and want to get better at their wartime task are also placed in local units. More information about reservists' activities in local units is accessible here.
– The reservists operating in local units are an important asset for us. In local defence exercises, they get to train their wartime task as a part of a larger unit and advance progressively in it, Brigadier General Ylitalo says.
Regularly organised local defence exercises improve the performance and know-how of the Defence Forces' troops in their emergency conditions tasks. In week 36, exercising will be seen and heard across the country. Military vehicles will be on the move in inhabited built-up areas, and some of the exercises will also involve flight activity. The training units will use blank ammunition that will not pose any threat to bystanders, but will cause some noise.
Exercises in the autumn
Pohjoinen
Savo-Karjala
Kehä
Naantali-Raisio
Etelä-Savo
Päijät-Häme
Read more about the local defence exercises: Local defence exercises - Maavoimat - The Finnish Army
Learn about applying to the local defence troops in your area: Local forces - Intti.fi
Follow the exercise on the Army social medial channels:
Facebook.com/maavoimat
Twitter.com/maavoimat
Instagram.com/maavoimat