The Finnish Army takes part in the exercise Kevadtorm 2017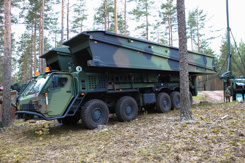 The Finnish Army takes part in the exercise Kevadtorm 2017 in Estonia on 14-25 May 2017. The strength of the Finnish contingent is 66 reservists and personnel led by the Pori Brigade
The main annual exercise of the Estonian Defence Forces, Kevadtorm 2017 is organised in Northeastern Estonia in the Jõhvi and Tapa garrisons a well as in the surrounding region on 8-26 May 2017. Apart from the Finnish contingent, this exercise will bring to Estonia approximately 6000 participants from Estonia, Denmark, the United States, the United Kingdom, Latvia, Lithuania, the Netherlands, France, Germany, Poland, Slovakia, Canada, Ukraine, Georgia, and Belgium.
The Finnish contingent comprises altogether 67 persons, of which 39 reservists, 3 conscripts, and 24 regular personnel forming a combat engineering platoon and a Leguan bridge-laying vehicle section. Furthermore, personnel will serve on staff duty in different Headquarters on 14-25 May 2017.
The objective of attending the exercise is in enhancing the expertise of the reservists who have undertaken the training of the Finnish Rapid Deployment Force (FRDF) as well as that of the regular personnel together with fostering military engineering activity in a multinational operating environment. Participation in this exercise is part of the Finnish Army's International Exercise Activities for 2017.