Monument unveiling ceremony in honour of Tuomas Gerdt on the National Veterans' Day in Lappeenranta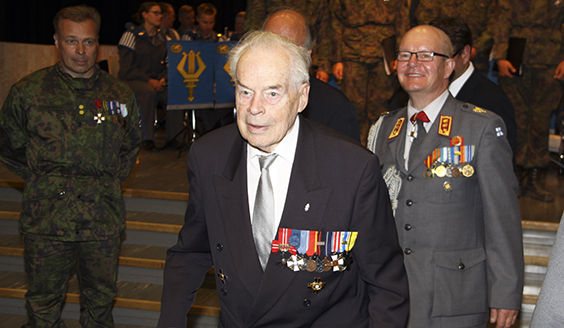 On 27 April 2022, a monument unveiling ceremony in honour of Mannerheim Cross Knight Tuomas Gerdt will be held at the Tuomas Gerdt Park in Lauritsala, Lappeenranta. The event will start at 16:30.
In conjunction with the National Veterans' Day celebration in Lappeenranta, a monument will be unveiled to honour the last surviving recipient of the Mannerheim Cross, Captain (Res.) Tuomas Gerdt who died in 2020. The monument will be placed at the Tuomas Gerdt Park which was dedicated in the memory of the Mannerheim Cross Knight in Lauritsala, Lappeenranta, in 2021.
Including a poem authored and recited by Major Joni Pirinen to commemorate Tuomas Gerdt titled "Viimeinen", the programme for the event will also involve music performed by the Dragoon Band and the Cadet Choir, as well as a speech by Mayor of Lappeenranta Mr Kimmo Jarva.
The arrangements of the monument unveiling ceremony will remain the responsibility of the Army Academy.
Traffic control arrangements in Lauritsala on 27.4.2022
The area in the vicinity of the Tuomas Gerdt Park (Itsenäisyydenkatu–Kirkkotie–Eteläpuistokatu–Hallituskatu–Luukkaantori parking lot) will be closed for traffic on 27 April at 16–17. Please note that no parking will be allowed along the streets at 8–18. Furthermore, the parking lot of the Lauritsala community house building as well as the area in front of the Lauritsala school building will be reserved for guest parking for the event's duration.