Local defence exercise LAPPI 118 develops cooperation among authorities in Lapland
The LAPPI 118 exercise led by the Jaeger Brigade will be carried out in Rovaniemi from 26 February to 2 March 2018.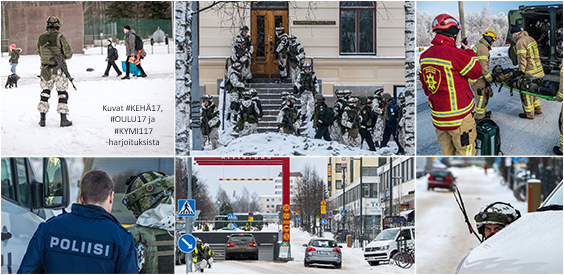 Personnel and materiel belonging to the Defence Forces and other authorities participating in the exercise will be on the move and training from 26-28 February in the centre of Rovaniemi. The Police and Military Police will direct the traffic and close off areas needed for the exercise.
Personnel from the Jaeger Brigade, Lapland Air Command, Lapland Border Guard District, Lapland Police Department, Lapland's Regional State Administrative Agency, Lapland's Centre for Economic Development, Lapland Hospital District, Finavia and Rescue Services of Lapland will participate in LAPPI 118. The overall strength of the exercise will be approximately 600 persons. The exercise will be commanded by Lieutenant Colonel Arto Vaarala.
The aim is to practice and develop cooperation between authorities at local level in disturbances and improve the know-how of reservists, conscripts and personnel relating to local defence tasks.
LAPPI 118 is one of five local defence exercises led by Army brigade-level units arranged in Kymenlaakso, Pohjanmaa, Pohjois-Savo, Rovaniemi, Satakunta and Uusimaa between 26 February and 9 March 2018. These exercises increase the capability for cooperation between security authorities in rapidly developing situations.
It is possible to follow LAPPI 118 on the Army's Facebook and Twitter pages using hashtag #lappi118.
During the exercise citizens can use the number 0299 452 112 for possible enquiries.