Pori brigade applied artificial intelligence (AI) to recognise skills learned during the military service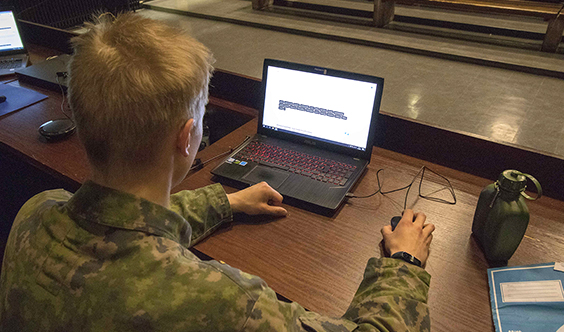 Pori brigade together with local educational institutions and Headai created a joint pilot project to utilise the gained military skills for education and career paths. The conscripts muster out in June with a digital skills profile that consists of military leadership skills turned into civilian language with the help of AI.
The pilot focused on leadership training and identifying those skills with AI in order to simulate them with the higher education curriculums. The aim is to help conscripts to utilise their military service skills and competencies better in their education, careers and jobs.

– We are an important education provider in our society. It's valuable that the skills acquired in the military service will be credited better in studies. We found significant similarities for example in leadership training and business studies, says the head of training of Pori brigade, Lieutenant colonel Janne Varjonen.

An AI-based solution was developed in the pilot to enable identifying the skills from the leadership courses and turning them into civilian language. These are saved to a digital skills profile, which the constricts can download as part of their service certification.

– This pilot project identifies military service skills extensively and in detail. The purpose is to give insights for educational institutions to assess better how to give credit for military service. It's also important to help individuals to recognise and verbalize their skills for job-seeking purposes. Unifying the educational paths has a significant impact on our national economy, says the founder of Headai and the chairman of the board, Harri Ketamo.

– To advance streamlining the educational paths, it is important to identify the skills acquired in the military service, and give credit for incoming students if possible, says Jari Kuusisto, the rector of Vaasa University.

For the first time, cognitive technology enables real-time comparisons and simulations in-between multidisciplinary military service training and educational offerings, or labor market skills demand.

– We want to add meaningful value for completing military service. As a result of this pilot, our conscripts get a concrete skills profile document of their learned skills, says Varjonen.
More information:
Pori brigade Director of Educational Sector, Captain Janne Kemppi, p. +358 299 800.