Simulator training available both in class and in the field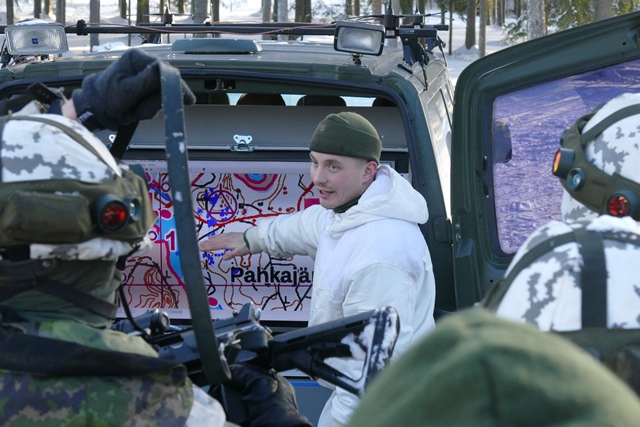 Operating as part of the Army Academy's Education and Training Centre, the Finnish Army's Simulator Centre of Excellence (SCoE) was established by the Finnish Army in 2016 to start functioning in January 2017. Over the course of two years, the SCoE has provided the Finnish Defence Forces with, among other things, a virtual training environment.
"The virtual training environment equals 32 class room facilities in 20 localities, three of which pertain to the Finish Border Guard, equipped with altogether some 1,250 computers in total that run a virtual combat training system, the VBS, Virtual Battle Space", Major Mika Kärsämä, Deputy Head of the SCoE explains.
For a layperson, this software comes across as any regular desktop suite would, but the fact is that these built-in applications facilitate actual combat training development. Utilising simulators enables a high number of repetitions concerning a given mission.
"By using simulators it is possible to increase the number of repetitions and do so quickly and safely. Virtual simulators also allow for conducting training in the types of areas that would remain no-go terrain for practical reasons."
Undertaking training will thus impose no distractions on society, and training activities may be conducted uninterrupted.
"While using simulators, we are able to employ capabilities involving particular weapons and vehicles that may not always be accessible in other types of training exercise activities", Major Kärsämä continues.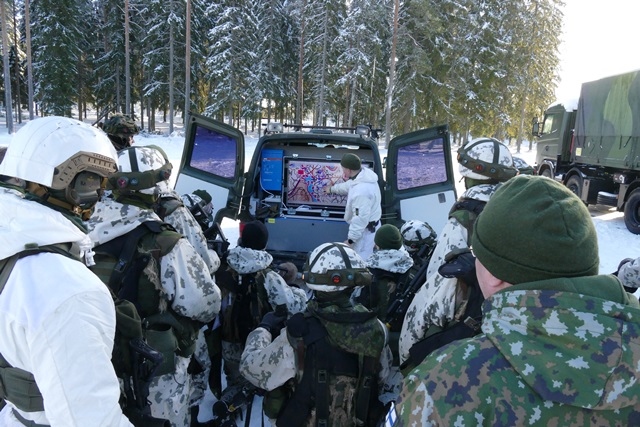 Implementation of virtual training takes varying forms in the brigade-level units and in the three services. In a number of locations, virtual training is utilised for instructing matters that could not be realistically instructed by any other means. And, in some locations, virtual training involves learning the given activity with the subsequent implementation phase then taking place in the terrain.
Log files with data stored on instances of failure and success
Apart from class room facilities and end-user devices, the SCoE has also brought about, among others, a live simulator system KASI that essentially comprises a simulator vest and a sensor mounted to a helmet worn by a soldier while operating in the terrain. This equipment will then inform the end-user on, for instance, a hit or a near miss.
Following each training exercise session, the instructor will give each participant bespoke feedback. Correspondingly, the live simulation system Kasi will also supply log files with data on individual soldiers' movements and action. This allows for reviewing the training undertaken immediately by consulting the digital screen display data while still in the terrain. Both instances of failure and success serve as lessons learnt.
In the Army Academy, simulators including the live simulation system KASI are being utilised while providing training for conscripts, reservists and service personnel.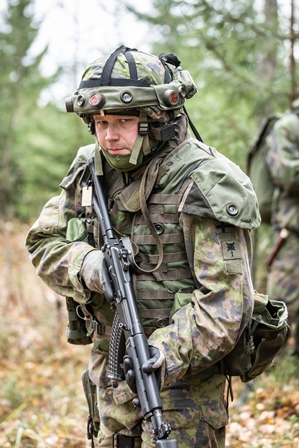 Simulator systems aid in supplementing rather than replacing
Supplementing regular training methods, simulator systems including the live simulator system KASI are utilised in versatile environments that include class rooms, field training exercises and final evaluation combat settings that validate the conscripts' achieved proficiency level before mustering out.
"On a yearly basis, the live simulator KASI equipment will be utilised for some 100 days in total. It pays off to keep in mind that this is just one of the training tools available rather than an all-purpose training method", Major Kärsämä point out.
Cost reductions as a secondary by-product
Enabling undertaking training in increasingly realistic exercise conditions, simulators also facilitate generating significant cost reductions, although this has not been the primary goal per se.
"Simulator system procurement has not been motivated by cost reductions. Rather, the savings accrued have come about as a secondary by-product", Major Kärsämä says.
In conjunction with varying types of procurement projects, the SCoE also conducts leading, planning, advising and preparing activities. As such, the SCoE leads the planning and implementation of the Finnish Army's simulator activities.
"Apart from this, we also partake in the implementation of the Finnish Defence Forces' procurement projects for simulators", Major Kärsämä explains.
Operating in three localities, the SCoE comprises the Command and Research Unit that is part of its set brigade-level unit, the Army Academy in Lappeenranta, and the Live Simulator Unit in the Pro Brigade, Säkylä, as well as the Virtual Training Environment Unit in the Armoured Brigade, Hattula.
Which types of projects are currently in progress in the SCoE?
"For instance, a simulation enhancement procurement project SILLA that consists of two projects, namely, an Indoors Weapons Simulator, and a Command and Staff Simulator 2. The procurement process for the former will begin during the course of 2019 led by the Defence Command Training Division. In both these projects I will serve as Project Manager", Major Kärsämä describes.
"Another significant example of the ongoing research projects would have to be that of updating the Finnish Army firing programme that involves planning the utilisation of simulators as part of weapons and marksmanship training."
For years now on a regular basis, the simulators have been utilised in the Finnish Army and in the Finnish Defence Forces. Obviously, demonstrated competence proficiency in simulator utilisation is nothing new in Finland, but this proficiency continues to be increasingly enhanced nevertheless.