Commanders of the Finnish and Swedish Armies inspect KVARN16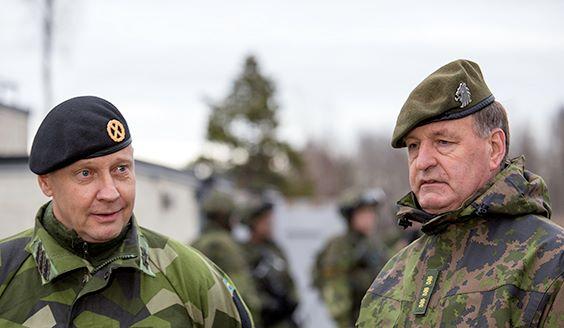 Commander of the Finnish Army, Lieutenant General Seppo Toivonen and Commander of the Swedish Army, Major General Karl Engelbrektson inspected the KVARN16 exercise between 21-22 November.
Commander of the Guard Jaeger Regiment, Colonel Ahti Kurvinen is also part of the Finnish delegation.
The commanders followed the joint training of the Finnish and Swedish combat support engineers on 21 November at the Swedish Army's Combat Training Centre for Military Operations on Urban Terrain (CTC MOUT).
The Commanders will follow the joint exercise on 22 November, when the Guard Jaeger Regiment's Military Police reservists will execute search and detain tasks in cooperation with the professional soldiers of the Life Guards Regiment.