The Cooperation Between the Finnish and the Swedish Armies Strengthens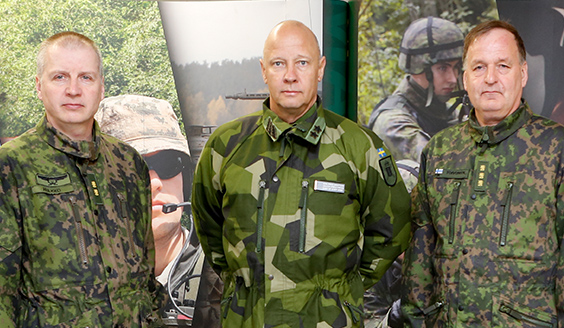 The Commander of the Swedish Army Major General Karl Engelbrektson led the Swedish delegation in Finland at the annual Finland-Sweden Army Staff Talks on March 28th to 30th 2017.
The agenda of the annual meeting was to analyze the results of past year's efforts and defining the next steps in the bilateral cooperation, such as future training, exercises and development of the material cooperation. Both delegations consisted of several representatives from different fields of expertise.
"The spirit of the staff talks was positive and forward looking. The presentations from different working groups turned out to be excellent. The army cooperation will be even stronger and more concrete in future", said the host of the Army Staff Talks, Finnish Army Commander, Lieutenant General Seppo Toivonen.
The aim of the bilateral cooperation between the Finnish and the Swedish Armies is to develop common land power capabilities based on the cooperation under normal conditions. The capabilites can be used, if so decided, during a time of crisis. The cooperation develops both armies' capabilites to operate both alone and together.
In picture The Finnish Army Commander Lieutenant General Seppo Toivonen (right), The Swedish Army Commander Major General Karl Engelbrektson and the Finnish Army Chief of Staff Major General Petri Hulkko.