Swedish cadets met Finnish cadets and visited Rovajärvi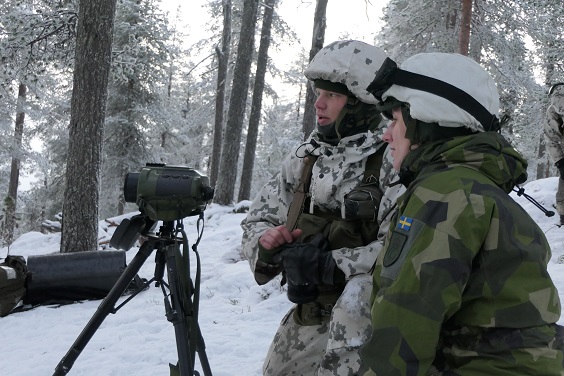 The Army Combined Joint Fires Exercise 21 ACJFE21, or MVH21, was visited by altogether 20 cadets from the Swedish Artillery School. As part of the visiting cadet detachment was also Cadet Emma Tiller. The visit included familiarisation with firing positions, the command post, and the forward observation post.
At the latter, Cadet Emma Tiller met a Finnish conscript, Officer Candidate Anton Juola from the Jaeger Brigade who operated as a coordinate measurer at the forward observation post.
- May I take a look at this piece of equipment, Cadet Tiller asked. And, obviously, the answer was a yes.
- The coordinate measurement equipment looks different but it functions the same way as ours in Sweden. Yet the Finnish version seems to be easier to use and lighter to carry, Cadet Emma Tiller notes.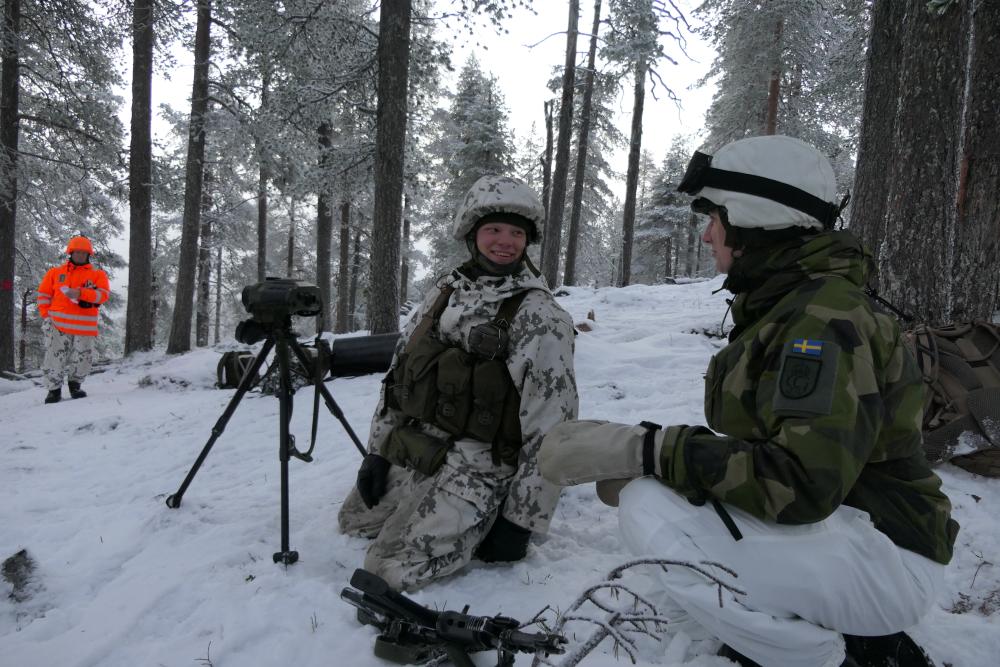 The Swedish cadets met Finnish cadets who undertake training relating to service branch studies in the Artillery School in Kankaanpää, Niinisalo, and at present were attending the exercise MVH21 in Rovajärvi. As part of this exercise, the cadets instructed conscripts as part of their studies. The visiting Swedish cadets were interested in, among others, the structure of Finnish officer studies and the weapons systems operational in Finland.
- They asked about women's views in particular on the liability for military service and concerning officer studies, Cadet Minttu Paunu (in orange helmet) explains.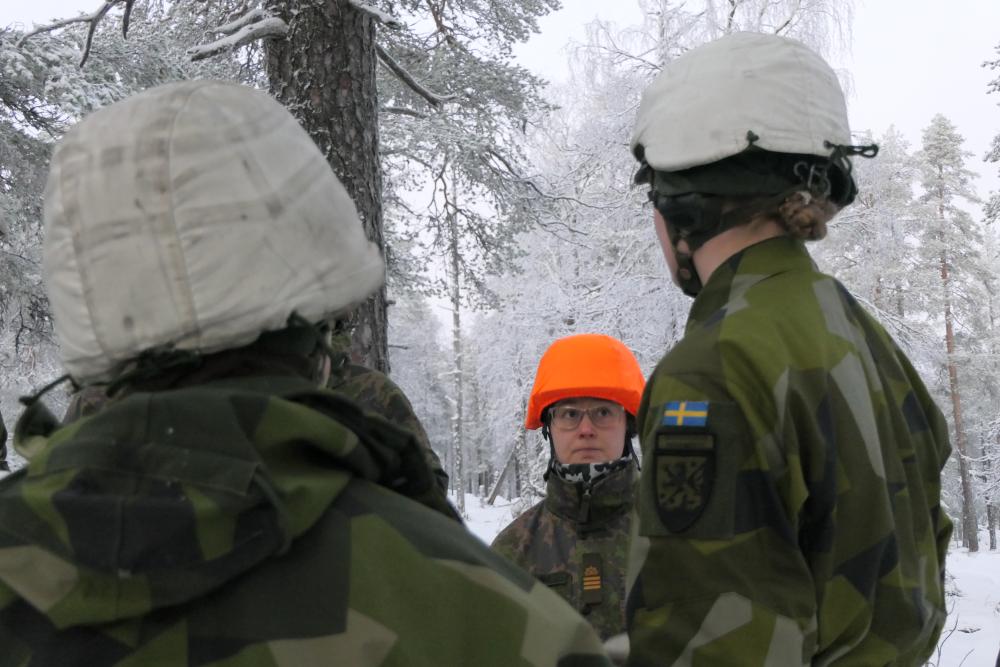 The Swedish cadets were interested in the Finnish liability for military service in general. And the two -day visit offered plenty of opportunity for discussion and familiarisation. In fact, the cadets and their course directors and instructors came up with how to conduct cooperation in the future. For instance, Swedish participants could well attend exercises in Finland, and their Finnish equivalents could do so in Sweden. Cooperation will continue to develop sand deepen.
The Artillery School in Sweden is located in Boden, Northern Sweden, whereas the Artillery School in Finland is located in Kankaanpää, Niinisalo.
Army Combined Joint Fires Exercise 21MVH21 was in Rovajärvi from 10 to 26 November. You may follow the exercise on social media under #maavoimat ja #MVH21 as well as on the exercise's site at maavoimat.fi/mvh21.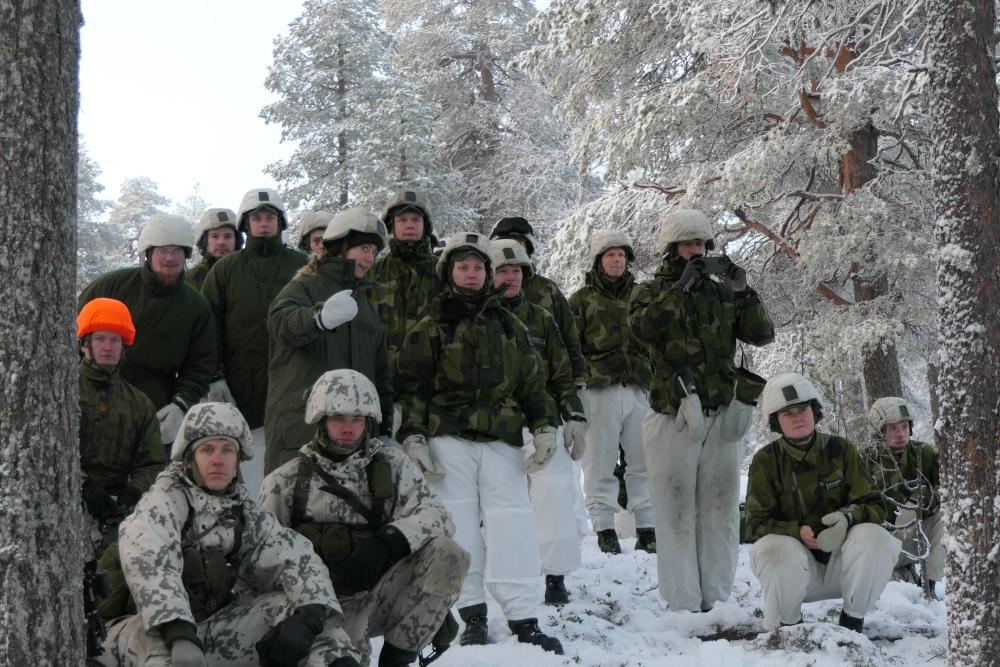 Cadets from the Swedish Artillery School observed artillery fires in the exercise MVH21 at Rovajärvi from 19 to 20 November 2021. As the locality abounded in snow in sub-zero degrees Celsius, a number of the visitors sported Swedish Army winter coats in green that kept them warm. "In case of emergency, this coat doubles as a sleeping bag," one of the Swedish Cadets explained. Finnish Cadet Oskari Pennanen wearing an orange helmet. In front, Finnish conscripts in snow camouflage suits waiting for their turn to operate on a forward observation mission.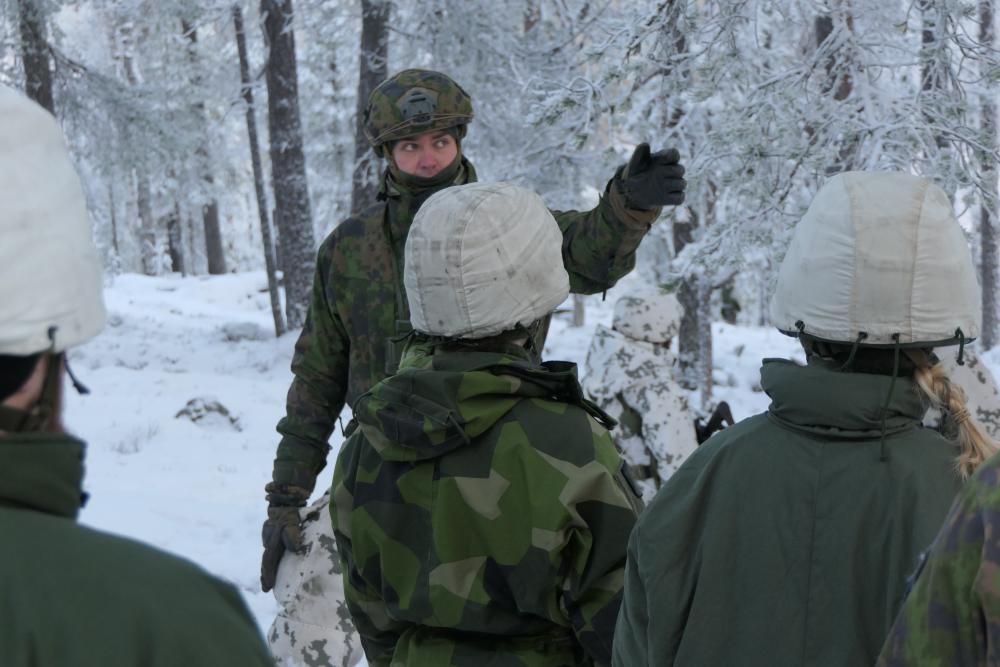 Captain Aleksanteri Sirén, Course Director of the Finnish Artillery Cadets, gives instructions to the Swedish Cadets.