Sustained international training serves in developing and displaying our capability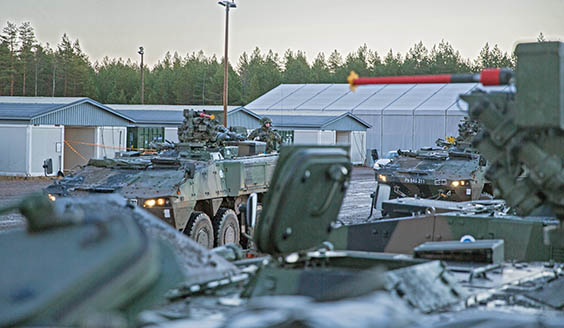 On a regular basis, the Finnish Rapid Deployment Force trained by the Pori Brigade participates in international exercises organized abroad. This in turn enables enhancing forces' cooperation capability and implementing international crisis management tasks as well as developing Finnish soldiers' capability to provide and receive assistance in case of crisis.
The objective is to provide each contingent of the Rapid Deployment Force with international exercise practice to be undertaken either while still in conscript service or promptly afterwards in the reserve. Over the past years, the most significant international exercises have included Cold Response 2016 in Norway and the Saber Strike exercises in the Baltic countries.
During this coming summer, reservists of the Rapid Deployment Force prepare for participating both in the multinational exercise Kevadtorm hosted by Estonia and the US-led exercise Saber Strike in Estonia. In addition, at least US units will attend the combined mechanised exercise Arrow 17 in Niinisalo, Finland, in May, and units from the Pori Brigade take part in Aurora 17 in Sweden in September.
Lessons identified and learnt indicate that, in an international exercise setting, the trainees gain experiences of success even as regards daily cooperation routines and thus increase trust in their own competence. Furthermore, units and their leaders are able to hone their leadership and coordinating skills to sustain seamless cooperation with partners.
As the training in the Rapid Deployment Force offers versatile practice in implementing mission command and tactics and does so by using English, its functions directly relate to the framework of international cooperating as well. International exercises also provide the salaried personnel with ample opportunity to compare the Finnish level of competence to that of others.
The fact that the Rapid Deployment Force has participated in international exercises has significantly paved the way for overall international training in the Finnish Defence Forces.
- It is important that we sustain international cooperation and it is in this capacity that the Pori Brigade has served as a forerunner. The experiences accrued by our soldiers have become utilisable for us and, on the other hand, we have been able to demonstrate our competence and expertise. As for the defence capability, it is significant that others know our ability, said Commander of the Finnish Army, Lieutenant General Seppo Toivonen in an interview by the Pori Brigade periodical Porilainen in March.
Apart from offering training for the participating forces, international exercises serve as a learning entity for the branch of logistics. Namely, branch-specific logistics planning and preparing concerning the transport of equipment and personnel are an indispensable part of cooperating, and developing these support functions asks for more than theorising on paper.
- Exercises equal the only means to develop the type of interoperability that both supports crisis management efforts and sustains interoperability necessary for providing and receiving assistance with the related legislation and directives currently going through the standard handling process in the Finnish Parliament, noted Lieutenant General Toivonen.