Finnish Army will be training in Northern Finland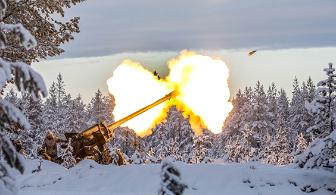 Arctic Shield 18 will be organised in the Rovajärvi training exercise area from 27 November to 12 December 2018.
The phases of this training exercise will involve altogether approximately 4,800 participating persons in total, mainly from the Kainuu Brigade, Jaeger Brigade and Pori Brigade. Additionally, in conjunction with the mutual defence cooperation between Finland and Sweden, a Swedish Army detachment of 200 soldiers in strength will be partaking in this exercise from 4 to 12 December 2018.
Incorporating all service branches and command levels of the Finnish Army, the training exercise Arctic Shield 18 will entail training cooperation as part of coordinated fires and live exercise combat training. The training objectives will include developing Finnish Army capability across the area of Northern Finland, validating the sustained operating level of the troops trained as well as enhancing multinational interoperability.
The training exercise will feature four phases:
marches and troop concentration
live fire exercise
live exercise combat training
return marches
The live fire exercise phase will include conducting the indirect fires and infantry fires part of the conscripts' unit training period.
The live exercise combat training phase will also involve flight activities in the area of Rovajärvi from 7 to 12 December 2018.
The training exercise will be led by Brigadier General Tuomo Repo from the Kainuu Brigade.
This training exercise will be observable online:
maavoimat.fi/arcticshield18
Facebook.com/maavoimat #arcticshield18 #maavoimat
Twitter.com/maavoimat @maavoimat
Youtube.com/puolustusvoimat
Marches
The equipment and personnel of the participating troops will be on the move as follows:
From Kajaani by equipment train and by bus on 29.11., 2.12., 3.12. and 5.12.
From Sodankylä on a motorised march and by bus on 28.11., 3.12., 5.12., 7.12. and 8.12.
From Niinisalo by equipment train and by bus on 2.12.