2. Military Police Company to exercise in Helsinki and Porvoo on 9.-12.5.2022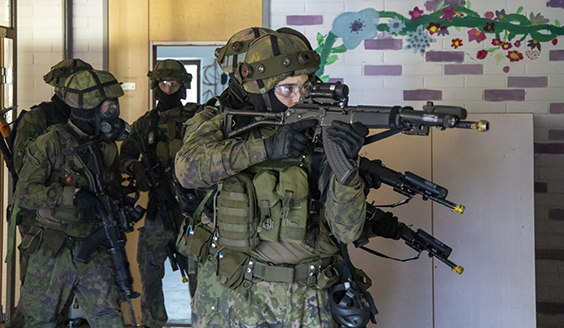 On 9-12 May 2022, the Guard Jaeger Regiment's 2. Military Police Company will undertake training in the areas of Helsinki and Porvoo. The combat exercise will have conscripts of the January 2022 contingent to be trained for military police duty and conscript leaders of the July 2021 contingent undertake training involving target protection and defence, area surveillance, as well as first dispatcher fire team patrol. The exercising will prepare the military police for the exercise Sapeli that is to start in late May.
On Thursday 12 May, the exercising will take place also in the area of Helsinki with the exercise locations in Santahamina, Korsnäs and Vuosaari. The exercising will involve using drill ammunition.
The training audience units will be on the move in combat uniforms wearing a fighting load including an assault rifle. The instructors will be wearing yellow high-visibility vests on their combat uniform. The troop transfers will be by civilian and FDF vehicles, including armoured personnel carriers.
The exercise will be participated by up to 140 persons.