Army's armoured wheeled vehicle programme to the product development phase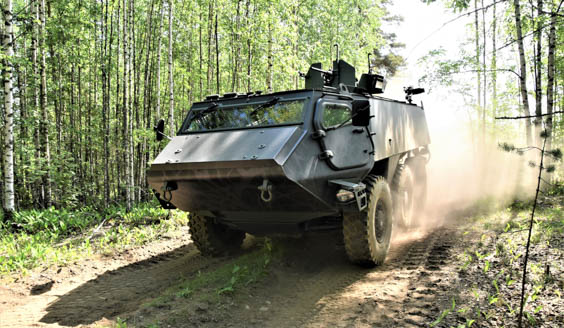 The cooperation programme of an armoured wheeled vehicle system for sustained army mobility enhancement has now advanced to the product development phase. The vehicle system development involves cooperation with Latvia and Patria Land Ltd.
Finland, Latvia, and Patria Land Ltd agreed on the product development of an armoured wheeled vehicle system. The aim is to develop a common armoured wheeled vehicle system that is compatible with the set requirements, is based on the Patria 6x6 armoured wheeled vehicle chassis platform, and includes relating fitted vehicle versions, an armoured personnel carrier and a command post vehicle.
In the future, based on the product development agreement, the countries may order other fitted vehicle versions and equipment as well as relating product development. The product development may also include entities for developing solutions relating to servicing, logistics, and training.
The programme generates and secures wheeled mobility of the most capable operational forces of the Army capable of operating across the nation well into the 2040s.
- This marks a significant new opening for developing the mobility of the infantry and of the Army and for generating a new force capability. With the combined research and development project, it becomes possible to find solutions also for enhanced interoperability, cost-effectiveness, and sustained security of supply, Inspector of Infantry, Colonel Rainer Peltoniemi from the Army Command points out.
Under the leadership of Finland, the joint product development aims to enable serial procurement acquisition of the vehicles. Decisions concerning any possible serial procurement acquisitions will be made later on. The development programme may still be joined by other countries.
The total value of the product development agreement, including value-added tax, is circa EUR 7,3 million. The product development costs will be shared between the countries. The Finnish Defence Forces implements long-term and systematic development in accordance with the national defence budget and the Finnish Defence Forces' development programme.

MOD release on the product development agreement.
Previously published releases.