Army to participate in the main exercise of Estonia Siil / Hedgehog 22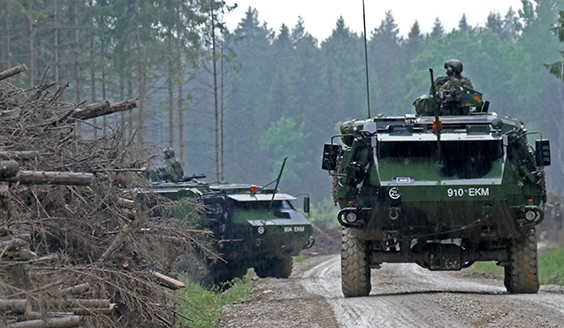 The Army will participate in the exercise drill Siil / Hedgehog 22 in Estonia on 18–28 May 2022. Consisting of reservists, conscripts, and service personnel, the Finnish training audience detachment to the exercise will be altogether 240 personnel in its total strength. The detachment will be led by the Pori Brigade.
An annually held main exercise of Estonia, Hedgehog 22 will be organised in Southern Estonia from 16 May to 3 June 2022. The Finnish training audience detachment will operate as part of the 1. Brigade's Scouts Battalion of the Estonian Defence Forces. The Estonian-led exercise drill will be participated by up to circa 15,000 personnel from altogether 11 nations, including the USA, Denmark, France, Latvia, the UK, Sweden, and Finland. The main effort of the Finnish training activity will be in the vicinity of Võru.
From Finland, the exercise drill will be attended by a jaeger company and a combat engineer company formed by the Pori Brigade with composition involving reservists trained for the Finnish Rapid Deployment Force (FRDF). Also, the strength will include a national support element formed of Pori Brigade service personnel as well as some conscripts. The training audience detachment will also contain service personnel from the Kainuu Brigade and Karelia Brigade with instructor and command echelon staff duty tasks. The national senior officer of the Finnish training audience detachment will be Lieutenant Colonel Risto Kohonen.
The set exercise objective is to develop and test the capabilities of the jaeger company and the combat engineer company on international missions and to develop interoperability in versatile tasks and operational environments by exercising with partners. Additionally, Hedgehog 22 will exercise the personnel's competence in planning the providing of international assistance and in the implementation thereof, as well as in planning logistics support.
- For a number of years, Pori Brigade -led training audience detachments have participated in similar main exercise drills in Estonia, and in other exercises held in the Baltics. Now, as the coronavirus situation is improving, we all are highly motivated to be able to partake again in such an extensive multinational exercise. We participate in Hedgehog from our own point of departure, and the coming exercise entity both strengthens our international interoperability and strongly supports the needs of our national defence, Lieutenant Colonel Kohonen summarises the grounds for exercise participation.
Participation in the exercise is part of the Army activity included in the Finnish Defence Force's training and exercise activities for 2022. Previously, the exercise Siil / Hedgehog was participated by the Army in May 2018.