Exercise Northern Forest 21 started and the Swedish exercise units were received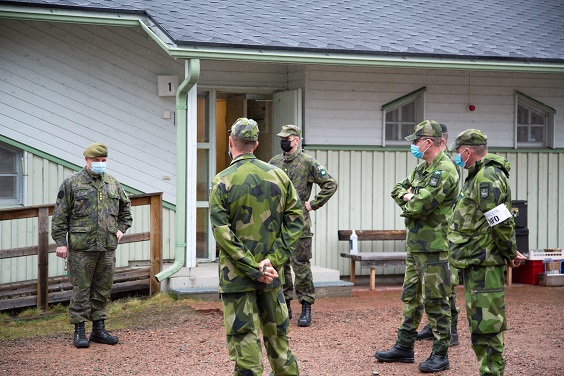 The exercise Northern Forest 21 led by the Army Academy started in Northern Finland in the region of Rovajärvi, Kittilä and Sodankylä to continue from 17 May to 3 June 2021. On Tuesday 18 May 2021, Exercise Director, Commandant of the Army Academy, Colonel Kari Pietiläinen welcomed the Swedish exercise participants.
- Exercises that involve training substantial units remain significant as this allows us to exercise operating jointly. Now the Finnish and Swedish training audience conduct firing together, and we coordinate our methods. The FISE cooperation undergoes development and defence cooperation continues also during the coronavirus pandemic. Apart from the Swedish troops, this exercise also involves a high number of units from the Finnish Border Guard. Welcome to all our exercise troops. Välkommen, Colonel Pietiläinen says.
- We are very satisfied to be finally here in Finland. Everything has gone according to plan so far, and the support we have received has been excellent. As far as we are concerned, this is one of the most important exercises the Swedish armed forces are taking part of this year, Lieutenant Colonel Jerker Persson, Commanding Officer SWECON explains.
Altogether circa 7,000 personnel, of whom up to 350 are from Sweden, will partake in the exercise. Conducting combined training with Swedish units develops joint operating capability and sustainment of shared situation picture. The Swedish troops are from the Norrbotten Regiment as well as from the Artillery and Signals Regiments. The FISE cooperation and its development rest on the military strategic concept of defence cooperation between Finland and Sweden.
– The exercise NF provides a very good framework for cooperation development, the objective being in efficient use of resources by both parties, Exercise Director, Colonel Pietiläinen points out.
The largest exercise of the Army this year, the exercise Northern Forest 21 involves units from the Kainuu Brigade, Jaeger Brigade, Army Academy, Pori Brigade, Armoured Brigade, FDF Logistics Command, FDF C5 Agency, Finnish Defence Intelligence Agency, and from the Finnish Border Guard. The exercise is organised and led by the Army Academy.
Follow the exercise on social media with
#northernforest21 #nf21 #fise #maavoimat #maask #pvpsh21
For more information on the exercise Northern Forest 21, visit the Army online site at