Field training exercise Sapeli 22 in the capital region and Uusimaa from 25 November to 2 December 2022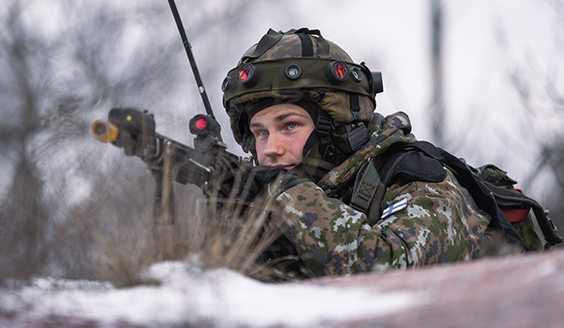 Almost 1600 persons comprising conscripts, reservists and Defence Forces service personnel will participate in this military exercise stretching from Helsinki to Hanko in late Novermber- early December conducted alongside the Navy exercise Freezing Winds.
Exercise Sapeli 22 led by the Guard Jaeger Regiment will be the closing exercise for the conscript leaders of the January contingent, the readiness unit and military drivers as well as July contingent conscripts trained for rank and file tasks.
The total strength of the exercise will be around 1 600 soldiers, half of them reservists. In addition to the Guard Jaeger Regiment, units from the Armoured Brigade, Pori Brigade and Army Academy will take part in the exercise. Sapeli 22 will be carried out in cooperation with the Navy's international maritime exercise Freezing Winds to be held from 22 November to 2 December 2022.
Sapeli 22 will be commanded by the Commander of the Guard Jaeger Regiment, Colonel Asko Kopra.
The main objective of the exercise is to develop the readiness and performance of the Guard Jaeger Regiment's units on challenging combat missions in built-up areas and on southern coastal land areas. One of the themes of the exercise involves night operations, so training will continue in the evening as well.
Held annually as the closing exercise for the regiment's force production units, Sapeli is a demanding exercise entity for both service personnel and conscripts mustering out in late December. Exercising in an extensive area allows having the units conduct training in situations that enable the troops to apply their competence and skills for operating also beyond built-up areas.
In addition to training in the Finnish Defence Forces' field exercise and shooting areas, the units will also operate on public and private land. The units will be training in Helsinki, Espoo, Vantaa, Tuusula, Kirkkonummi, Lohja, Salo, Raasepori and Hanko.
The troops will be wearing a fighting load, including an assault rifle. The training personnel will be wearing yellow high-visibility vests Dummy drill ammunition will be used daily, which may cause noise in the immediate vicinity of the training locations.
Additional information on the exercise: Public Affairs Officer Meri Leppänen +358 (0) 299 421 235.
You may follow the exercise on social media with #sapeli22.