FTX Vigilant Knife refined force interoperability measures at Rovajärvi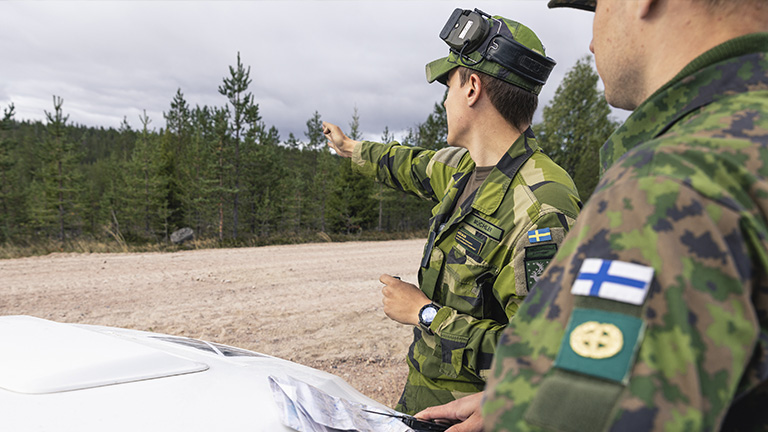 Held on 29.8.-2.9.2022, the Army field training exercise Vigilant Knife developed force interoperability of the Finnish and Swedish training audience units in particular under the conditions prevalent in Northern Finland. The exercise was also participated by altogether 80 troops from the UK.
The main effort of the exercise focused on improving Finland's ability to receive Swedish Army units as well as to reinforce defence cooperation with Sweden in Northern Finland. Troops of both nations acquired valuable experience tangibly with combined exercising and training.
- Arranged at short notice, the exercise Vigilant Knife showed that the Army brigade-level units in both Northern Sweden and in Northern Finland sustain immediate readiness and capability for combined operating on demanding missions. Submitting the Swedish units under Finnish command was carried out fluently, and the force was able to start executing their set mission immediately in the wake of the concentration march, Officer Commanding Exercise, Commander of the Kainuu Brigade, Brigadier General Manu Tuominen says.
At the closing of the FTX phase on Friday 2 September, the training audience units will be on the move returning from Rovajärvi back to their home garrisons at Sodankylä, Rovaniemi, Kajaani, Vekaranjärvi, and Helsinki mainly within Friday. The Swedish training audience units will return home via the border crossing point in Tornio.
Altogether up to 1,500 personnel from Finland, 880 personnel from Sweden, and 80 personnel from the UK participated in the field training exercise in total. The FTX Vigilant Knife is part of the Army complementary international exercise and training activity for summer 2022.
hotos and video footage relating to the exercise will be available on Army social media
• Facebook.com/maavoimat
• Twitter.com/maavoimat
• Instagram.com/maavoimat