Guard Jaeger Regiment to exercise in the capital area region on 9.-15.4.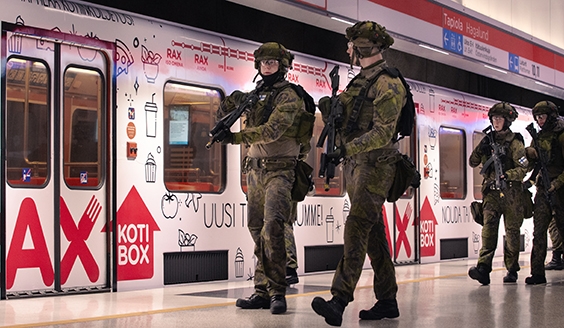 The Guard Jaeger Regiment's 1. and 2. Jaeger Company, Headquarters and Signal Company as well as 2. Military Police Company will undertake training in the capital area region from 9 to 15 April 2022. The exercise areas will include Helsinki, Espoo, Vantaa, Tuusula, and the area in the vicinity of the Helsinki-Vantaa Airport.
The combat training exercise will involve conscript training units exercising their troops on training-branch-specific missions in built-up areas as well as in forest terrain. Part of the Guard Jaeger Regiment's yearly training plan, the exercise will include getting practice in conducting inter-agency cooperation in cooperation with the Helsinki Police Department.

While exercising inside the buildings reserved for training purposes, the troops will utilise dummy drill ammunition. More detailed information concerning the exercise locations and times is listed on the noise notice below.

To be participated by altogether up to 370 personnel, conscripts and service personnel, from a number of units, the exercise will also involve 50 vehicles including armoured vehicles. The training units will be wearing a fighting load, including an assault rifle. The instructors will be wearing yellow high-visibility vests on their combat uniform.
Non-Commissioned Officer Course 52 will exercise in Malminkartano, Helsinki, on 9.-11.4.2022
1. Jaeger Company will exercise in Tapiola, Espoo, on 11.-12.4.2022
2. Jaeger Company will exercise in Tapiola and Olari in Espoo, as well as in Vuosaari, Malminkartano and Kuninkaantammi in Helsinki on 11.-14.4.2022
Headquarters and Signals Company will exercise in Kulomäki, Viinikanmetsä and Maantienkylä in Vantaa, as well as in Korpikylä, Pirunkorpi and Seepsula in Tuusula on 11.-14.4.2022
2. Military Police Company will exercise in Vuosaari on 14.-15.4.2022