"We will return from stability operations to training of high intensity conflicts"
The Commander of the Royal Netherlands Army visited Arrow 17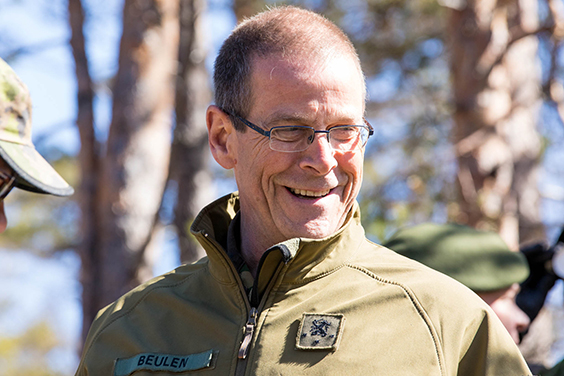 Invited by the Finnish Army Commander, Lieutenant General Seppo Toivonen, The Commander of the Royal Netherlands Army, Lieutenant General Leo Beulen visited exercise Arrow 17 in Niinisalo 3rd May. Before the exercise, Lt Gen Beulen also visited Kaarti Jaeger Regiment in Helsinki, where he was able to follow the training of Finnish conscripts.
- We just met the conscripts on the first day of their group training. To see how complicated operations they did already, that was quite impressive, Lt Gen Beulen reflects.
During the last years, the main tasks of the Royal Netherlands Army, as in many other countries too, have been within the stabilization operations such as Afghanistan, Iraq and Mali. According to LtGen Beulen, it is time to reassess and concentrate on exercising the high intensity warfighting again.
- We don't have a conscription based army anymore but a volunteer army. We are very much focused on stability operations where you are very much focused in defending your homeland.
- We have experience of 15-20 years in stabilization operations. What happens is that you lose some things about the knowledge and skills of operating in conflict in higher level.
Even though, according to LtGen Beulen, stability operations are of high intensity for a platoon and a squad, the Dutch will have to learn again to work on a brigade level and higher.
- You sure also have to be able to do your stability operations but if you only do that, then you only come into rotation of that. But if you train in high intensity, you can easily change to stability, not the other way around. It is much more difficult.
- The decision cycle of high intensity conflict is much faster than in stability operations, LtGen Leo Beulen describes.