Skills for Life from Military Service - a New Contingent Starts Military Service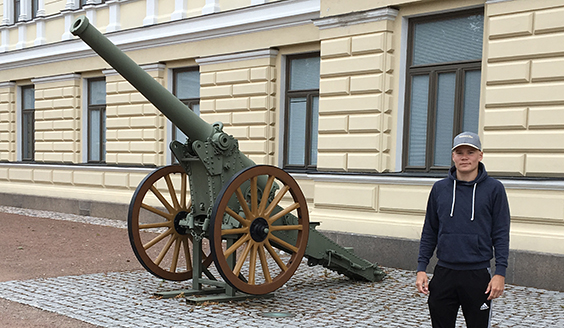 On Monday 9 July military barracks will be teeming again as the new recruits arrive. Approximately 9,500 young people start their military service in eight different Army brigade-level units.
The largest brigade-level units, the Karelia Brigade, Kainuu Brigade and Pori Brigade will have an intake of approximately 2,000 recruits each. Almost 600 women start their voluntary military service.
Conscript service is made up of training periods, starting from a soldier's basic training and progressing gradually to the main goal of training, wartime skills and tasks.
An 8-week basic training period starts off conscript service. During the first few weeks, the conscripts are taught the basics of carrying out, in a safe manner, the tasks of an individual soldier or as a fire-and-manoeuvre (buddy) team. The content and execution of basic training is the same across all of the services. Suitability for special capabilities and leadership training will also be assessed during the basic training period.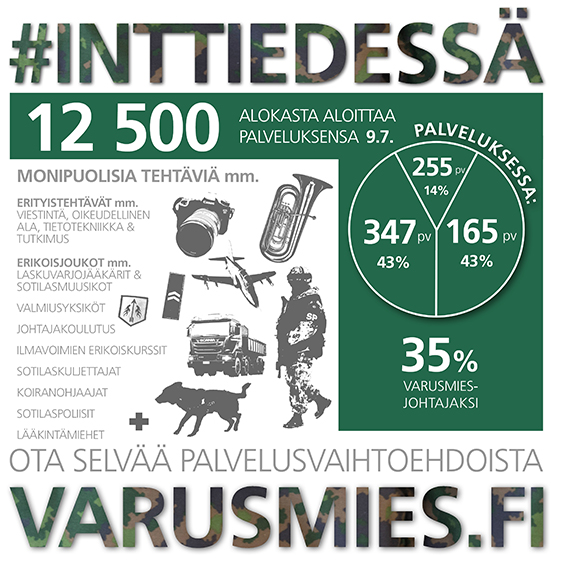 Final selections for non-commissioned officer and rank-and-file training will be done at the end of the basic training period. This will also determine the length of conscript service: 165, 255 or 347 days. Approximately 35 % of conscripts will receive leadership training.
Modern conscript service is developed with the ongoing Training 2020 Programme. The goal of the training is to update conscript training to meet the challenges of the 2020s.
#Inttiedessä
Markus Lautala from Hamina will start his military service in the Army Academy units located in Hamina. He has positive expectations for military service.
- Completing military service is an obvious and important thing for me. Friends and relatives have told me a lot of stories, both good and bad, from their military service so I want to experience them myself.
Lautala familiarised himself with the different training opportunities already before the call-ups. His expectations and goals have become clearer as the starting date approaches.
– I think military service will challenge me and might be rough at times. It's one of the things I look forward to. I'm definitely interested in leadership training, Lautala says, hoping to become military police.
You get skills you can use in the future from military service. In addition to making new friends in the service it provides you with opportunities for development and for growing as a person. Markus Lautala also thinks so on the eve of his military service.
– I'm sure I'll make new friends there. I also think it will be place for growing emotionally.
The Finnish Defence Forces trains conscripts for a variety of duties. Training selections for different specialities are done already during the basic training period. Be active and involved from the beginning. This will help you get the training you want.
You can get more out of your conscript service by applying for special duties in the beginning. A variety of options are available for example in the fields media, sports or legal branch. You can build on existing civilian expertise in various ways during conscript service. The applications for special duties for contingent 2/18 are accepted 9-29 July 2018. Read more and learn about the different special duties you can apply for.
More information about the length of service and different training options can be found at varusmies.fi/en.