2016 National Independence Day Parade in Kajaani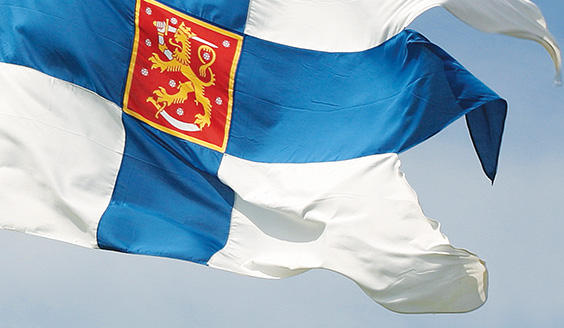 Finland celebrates its Independence Day on 6 December and this year's National Independence Day Parade will be held in Kajaani.
The parade's theme is "The Army as part of the Finnish defence system." Troops totalling around 1,300 from all three Services, the National Defence University, the Border Guard and veteran's and national defence organisations will form the parade. The parade will have some 90 vehicles proceeding in battle group formation. The Air Force will also take part in the parade with multi-role Hornets and Hawk jet trainers and the Army with NH90 transport helicopters and MD500 light helicopters.
The parade will be reviewed by Army Commander Lieutenant General Seppo Toivonen. The Parade Commander will be the Army Command's Chief of Staff, Major General Jorma Ala-Sankila. The Field Devotional will be conducted by Army Senior Chaplain Vesa Aurén. This year's parade is organised by Kainuu Brigade.
The day will begin with a wreath laying ceremony in Church Park, Kajaani. The review of troops will take place in the Kajaani Sports Park and the pass in review on Pohjolankatu (Pohjola Street). After the review, NH90 helicopters will perform for the public at the Sports Park.
The Defence Forces' will have a big display of equipment on the Market Square of Kajaani. The Army will have a military display in Suvantopuisto (Suvanto Park) demonstrating the mobility, fire power and other capabilities of its battle groups. The display will also feature Utti Jaeger Regiment NH90 transport helicopters and special jaegers fast-roping from these helicopters.
All flypasts are subject to weather conditions.
The general public are invited to attend all Independence Day events. People are requested to arrive at the Sports Park for the review of troops well before the parade troops. The Defence Forces' will be serving hot pea soup for free in the Sports Park before the review of troops. The Soldiers' Home will be selling snacks both in the Sports Park and on the Market Square.
The programme of the day:
klo 9.15 Wreath laying in Church Park, Kajaani
klo 10.00 Celebration mass in Kajaani Church
klo 10-15 Equipment display on Market Square
klo 10-13 Free pea soup in the Sports Park
klo 11.30 Parade troops get ready for the review, Sports Park
klo 12.00 Review of troops, Sports Park
klo 12.30 NH90 transport helicopter display, Sports Park (weather permitting)
klo 13.15 Pass in review along Pohjolankatu
klo 14.15 Army military display in Suvanto Park
You can follow the parade on-site or on the internet:
#paraati #itsenäisyyspäivä
Snapchat/inttielamaa
Periscope/Puolustusvoimat