Local defence and inter-agency co-operation to be exercised in September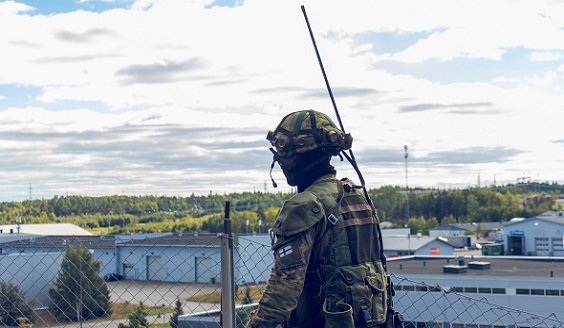 Local defence will be exercised throughout the country during 1.–8. September. Across Finland, the exercises will develop collective security, inter-agency co-operation, and the ability to prepare for disturbance situations. Joint drilling will include, for instance, situations relating to rescue activity and civil protection.
The local defence exercises will be participated by the Finnish Defence Forces and the Finnish Border Guard, up to c. 6,000 troops. Alongside the Finnish Defence Forces' units, the training audience will comprise authorities from the Police, rescue and emergency services, social and health sector, towns and municipalities, as well as a number of other operators.
– In addition to military national defence training, we will drill with other authorities varying situations relating to, for instance, civil protection, evacuations, and rescue activity. By training together, we ensure that we sustain the ability to secure and safeguard citizens' daily life in all situations. Regional co-operation and co-ordination among the Finnish Defence Forces, local authorities and operators is particularly important and features heavily in the exercises. Local defence is an integral part of comprehensive national defence in which all citizens have a role, DCOS Army Operations, Brigadier General Sami-Antti Takamaa says.
Local forces strengthening collective security
Local forces function as the corner stone of local defence. They consist of, among others, local battalions and their command elements whose area of responsibility is in principle a region.
– Reservists have a key role in local force activity. Therefore, it is important that reservists on a regular basis get to maintain and develop their expertise as part of these exercises. The majority of the reservists are assigned to the local forces based on their training and experience, but it is also possible to become involved by informing this willingness to one's own Regional Office, Brigadier General Takamaa points out.
In local defence exercises, local forces train regional securing and combat missions as well as leading, information interchange, and situation picture sharing with regional authorities. In exceptional circumstances, the set missions involve securing strategic targets, controlling areas, combat, and counter-special-forces operating.
Local defence exercises are part of the Army's annual training and exercise activity. The Army Command leads the planning of the entity for training exercise and inter-agency co-operation.
Exercising in different regions
Local defence exercises will be held throughout the country during 1.-8.9.2023. In built-up residential areas, military vehicles will be visible, and some of the exercises will include flight activity. Training audience troops will use blank drill ammunition that pose no danger to outsiders but may cause noise disturbance.
Pohjoinen
Vyötärö
Kehä
Etelä-Pohjanmaa
Kanta-Häme
Etelä-Kymi
Paikallisturvallisuus.fi
Facebook.com/maavoimat
Twitter.com/maavoimat
Instagram.com/maavoimat
Katso miten voit hakeutua alueesi paikallisjoukkoihin: https://intti.fi/en/local-forces