Local defence exercise Kehä 23 in the capital area with strong contribution of reservists and public authorities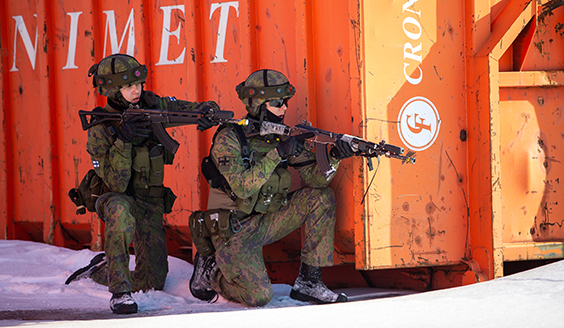 The Guard Jaeger Regiment -led local defence exercise Kehä 23 will be held in the reion of Uusimaa during 2. – 10.3.2023.
The strength of the training audience troops will be up to c. 1,250 personnel involving conscripts, reservists, and service personnel. Altogether, the number of reservists attending will be more than 800 in total. The local defence exercise Kehä 23 will be commanded by Guard Jaeger Regiment's Deputy Commander, Colonel Vesa Laitonen.
The exercise will involve drilling inter-agency cooperation at local level with the objective to develop authorities' mutual operating readiness. The participants will include Helsinki Police Department, City of Helsinki, Helen Ltd, HSL public transport authority, Helsinki Region Environmental Services HSY, Helsinki rescue Department, and Port of Helsinki Vuosaari Harbour. The exercise will also be participated by Karelia Brigade's Deployable EOD Unit and military police detachments from the Coastal Brigade and the Navy Academy.
In the local defence exercise Kehä 23, the units will mainly operate in the capital region. The exercise localities will be in the areas of Helsinki, Vantaa, Sipoo, and Tuusula. The training audience units will be equipped with combat load, including assault rifles, whereas the target detachments may also wear civilian clothing. Service personnel will be wearing yellow high-visibility vests on their combat uniforms. The exercise will involve c. 200 vehicles, including armoured vehicles. In some of the drilling locations the training audience troops will utilise blank drilling ammunition that may cause noise in the vicinity. Exercise locations are published in noise information below.
The exercise Kehä 23 is part of a continuum of local defence exercises. Held twice a year, these exercises stress developing local forces' capability and exercising cooperation with public authorities.
The exercise can be followed on social media channels with hashtags: #kehä23, #kaartjr, #maavoimat, #paikallisturvallisuus and #paikallispuolustajat.
Media contacts:
Until 4.3. Meri Leppänen, exercise PIO, +358 299 421 235, [email protected]
During 5.–10.3. Lotta Laaksonen, exercise PIO, +358 299 421 233, [email protected]