Training exercise Pohjoinen 18 marks the final combat training exercise of thousands of conscripts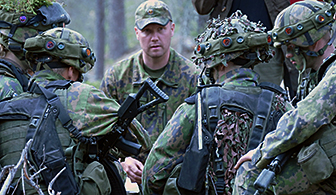 The main training exercise of the Finnish Army, Pohjoinen 18 offers thousands of conscripts combat training in Rovajärvi.
As part of this exercise, conscript leaders serve as section leaders and platoon leaders or equivalent responsible for leading and training the conscripts of the January 2018 contingent thereby tangibly sporting their development from recruits to privates and all the way to conscript leaders.
According to Chief of Training of the Kainuu Brigade, Major Risto Heikkinen, this final combat training exercise will be followed by the mustering out of the conscripts of the July 2017 contingent who undertook leadership training and will now become part of the Army reserve.
Altogether 2,600 conscripts serve in the Kainuu Brigade with the majority also partaking in the training exercise Pohjoinen 18. In addition, conscripts from other brigade-level units participate in this exercise as well. In total, the exercise's personnel amounts to 8,200 persons from all Finnish Army brigade-level units, the Norrbotten Regiment of the Swedish Army, the Finnish Border Guard, and the Police as well as supporting organisations, such as Millog Ltd, Leijona Catering, and the Soldiers' Home Canteen.
- The conscripts have now been able to apply their skills in practice. For instance, during the combat phase, those conducting an offensive were unable to cross a river because of an adversary's armoured fighting vehicle. Therefore they decided to bypass the river, employ indirect support fire and annihilate the adversary AFV, Major Heikkinen explains.
In other words, the soldiers employed creative thinking and acted in accordance with the situation, as emphasised by Exercise Commander, Colonel Asko Muhonen from the Army Academy.
Furthermore, it remains necessary to train cooperating across service branches. This is why instructors pay special attention to sustained cooperation between the infantry, artillery, signals as well as other service branches.
- A mission is never accomplished in a vacuum, Major Heikkinen points out.
This early summer the military training area of Rovajärvi remains particularly dry which results in sandy air and draught in terrain posing challenges.
- Possible threat of terrain fires may result in either interrupting or cancelling firing. Pre-emptive measures in preventing terrain fires include moistening detonation locations and using swampy wetland instead of dry heathland as artillery target areas, Major Heikkinen says. 
As an experienced instructor of instructors, Major Heikkinen has a few tips for clear conduct of command and control while leading.
- First, keep your plan simple and clear. Second, keep you mission in mind. Third, keep leading and giving instructions actively. In case no progress is made, it is the leader who must get the unit to operate as the mission presupposes, Major Heikkinen advises.