Finnish Defence Forces' main exercise to focus on the defence of the Southeast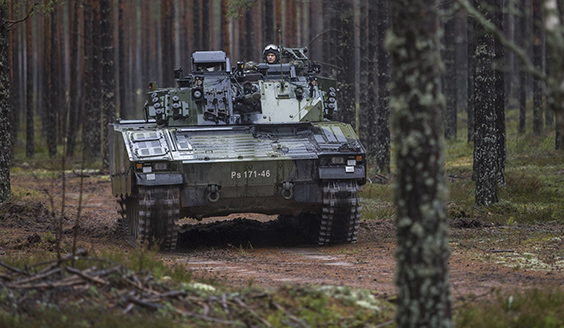 Organised in the region of Southeast Finland from 27 November to 4 December 2019, the Finnish Defence Forces' main exercise Kaakko 19 aims to train utilising the Finnish Defence Forces' joint operating capabilities with the Finnish Border Guard and readiness in responding in rapidly evolving situations in the area of Southeast Finland.
Incorporating up to around 12,000 persons at a time, the training exercise will include altogether 6,200 conscripts, 3,200 reservists and 2,600 service personnel partaking from the Finnish Defence Forces and from the Finnish Border Guard. The exercise will also involve a total of circa 2,200 vehicles. The exercise troops will be from the Finnish Army, Navy and Air Force, Defence Command and its subordinate establishments as well as from the Finnish Border Guard. The Exercise Director will be Commander of the Finnish Army, Lieutenant General Petri Hulkko.
- Arranged every two years across the nation's territory, the Finnish Defence Forces' main exercises do concretise the importance of cooperating between the Services and the Finnish Border Guard. Conducting seamless cooperation enables us to defend the entire country under all circumstances. The main exercise also serves as an excellent opportunity to put to the test the competence of all persons liable for military duty, of both our conscripts and reservists, in a major exercise entity, Lieutenant General Petri Hulkko summarises.
As part of this exercise, the Finnish Defence Forces will undertake training in the region of Valkeala, Savitaipale, Taipalsaari, Mikkeli, Mäntyharju, Lappeenranta, Hamina, Kotka and Porvoo. In addition, exercise activities will be conducted in the coastal areas of Southern and Southeastern Finland (Upinniemi-Kotka-Hamina) and in the Archipelago Sea and the Gulf of Finland.
The Finnish Army units in this exercise will comprise troops of all Army service branches from brigade-level units including the Guard Jaeger Regiment, Karelia Brigade, Army Academy, Army Command, Armoured Brigade, Pori Brigade and the Utti Jaeger Regiment. The Army Academy will lead the LIVEX phase and remain responsible for the exercise's overall arrangements.
The Finnish Navy will have naval and coastal units from all Navy brigade-level units partake in the exercise. Navy equipment and personnel will comprise altogether ten combat vessels, support vessels, command vessels and, among others, costal artillery and an anti-ship missile battery. During the exercise, coastal artillery will operate firing naval weapons systems at Rankki between 27.11.-1.12. 2019.
The Finnish Air Force will deploy altogether seven of its aircraft to the exercise Kaakko 19. Exercise-related flight activities will be seen over the region between Hamina–Imatra–Savonlinna–Mikkeli-Jyväskylä-Lahti-Porvoo and over the Archipelago Sea. In conjunction with the exercise, the Air Force will launch an air-to-surface release with a short-range precision-guided JDAM bomb in the Pahkajärvi Range Area on 22 November 2019 (27 November as a spare day).
On each exercise day between 25.11.–4.12.2019, flying is scheduled to take place between 8 a.m. and 6 p.m. Apart from the Air Force aircraft, the exercise will also involve Army helicopters and unmanned aerial vehicles as well as Finnish Border Guard helicopters and aircraft.
Marching detachments visible in traffic
The exercise troops' motor marches will contribute to a larger amount of traffic than usual and may thus affect other traffic. The motorised marching detachments' march speed will be maximum 80km/h from Monday 25 November to Saturday 30 November 2019 while on the move as follows:
On 25.11. From Riihimäki to Vekaranjärvi via route KT54 - VT12 - VT15 - Road 3691.
On 26.11. From Parola to Lievestuore via route VT10 - KT53 - VT24 - E63, from Niinisalo - to Mikkeli via VT23 - VT13, and from Säkylä to Mikkeli via Road 212 - VT12 - E63 - VT13.
On 27.11. From Lappeenranta to Vekaranjärvi via route VT6 - VT15 - Road 3691, from Parola to Vekaranjärvi via VT3 - VT10 - VT12 - VT15 -3691, from Parola to Hamina via E12 - KT25 - Road 55 - E18 - Road 371, and from Niinisalo to Kouvola via KT44 - VT2 - KT54 - 295 - 164 - 172 - 174 - VT6.
On 28.11. From Parola to Utti via VT10 - VT12 - VT6.
On 29.11. From Lahti to Utti via VT12 - VT6.
On 30.11. From Porvoo to Kotka via route VT7 - KT170 - Road 3573, and from Porlammi to Kotka via Road 1732 - 174- VT6 - Road 354 - 357.
Follow the exercise on Facebook, Twitter, Instagram and Youtube with #kaakko19 #PVPSH19 #maavoimat #merivoimat #ilmavoimat.