Readiness units of Southern Finland will exercise in Kymenlaakso during week 30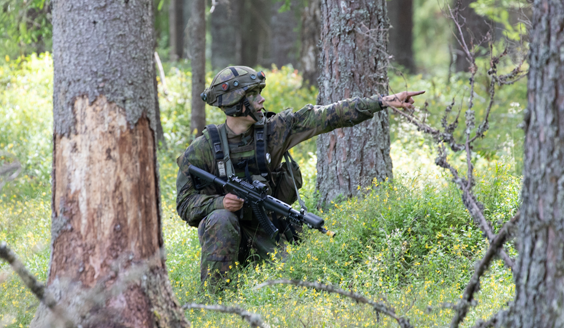 The Army Academy will lead the exercise of the readiness units of Southern Finland in the region of Kymenlaakso during 23-27 July 2023. Readiness units' joint exercising will sustain and develop Army readiness, and produce capability for rapid reaction as applicable.
In the exercise, the readiness units who assumed readiness responsibility in conjunction with the change of contingent will exercise joint operating. Part of the annual activity in accordance with the training plan, the exercise will be held simultaneously with the live fire and field training exercise of the Army Reserve Officer Course 262.
The exercise will be participated by Army forces from the Army Academy, Utti Jaeger Regiment, Army Command, Karelia Brigade, Guard Jaeger Regiment, Pori Brigade, and Armoured Brigade, as well as by Navy units from the Nyland Brigade. The training audience troops will include conscripts, reservists, and service personnel, altogether up to c. 1,700 personnel.
Alongside the Finnish Defence Forces' exercise and range areas, the training audience forces will also exercise in public places including, among others, the area of Port of HaminaKotka, and Kymi airfield. The training audience forces and their exercise equipment will be visible on public roads during the return marches at the start and end of exercise, and while on the move between the training drill locations over the course of the week.
The exercise will also include flight activity as part of the Finnish Air Force's exercise.