Finnish military engineering expertise shared with Nordic and Baltic students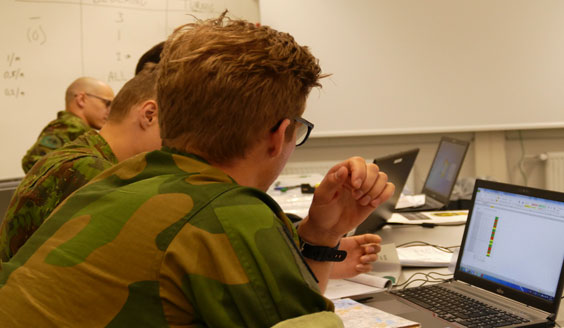 The Army Academy's Military Engineer School (MILENGS) organised a course module on combat engineer company (CBT ENG COY) operating in counter mobility operations on 12-22 June 2017 bringing students to Lappeenranta from Lithuania, Sweden, Norway, and Estonia. The objective of the course involved providing the attendees the prerequisites for functioning in the tasks of a commanding officer and 2IC of a CBT ENG unit subordinated to a battalion battlegroup (BN BG).
The course on CBT ENG COY operating in counter mobility operations featured as its contents, among other things, familiarisation with the planning process implemented by a CBT ENG COY, obstacle construction planning, assessment of operating environment impact on CBT ENG activity as well as examining cooperation between branches in relation to CBT ENG activity in a BN BG setting.
- This marked the third time that we hosted this particular course module. Over the previous two years, the number of foreign attendees has varied from two to three, but this year altogether eight students enrolled. Organising this course module allows for updating MILENGS knowledge on the type of CBT ENG proficiency demonstrated by other nationalities as well as on implementing multinational course modules. As for future developments, it might be worth considering, in case an attending country happened to have an exercise setting suitable for these instructing contents, to actually have the instructors attend the said exercise rather than have the students travel the distance, said the MILENGS course leader, Captain Ville Räsänen.
Although unattended by Finnish students this time, the course module may continue to be available also for Finnish CBT engineers.
- For experienced Finnish CBT engineers, this course module could serve as a type of preparatory training prior to deploying for international training or exercises. Furthermore, attendance will be complemented by exposure to language and culture related matters.
According to the foreign students, this course provided new viewpoints on counter mobility planning.
- We have had a lot to learn here. In Finland you have a different approach and decision making system but, on the other hand, counter mobility is easier here than in Estonia, because here you have natural obstacles like hills and lakes, comments 2nd Lieutenant Aso Licht from Estonia.
Captain Pehr Sturesson from Sweden agrees with 2nd Lieutenant Licht.
- Same here. There are some differences in how the Finnish and Swedish units are organized. I find it beneficial for me that we did things differently here, because now I have something new to bring back to my country.
The foreign students who attended this course module were satisfied with the training provided.
- The instructors, meals, social activities, etc. have all been great. We definitely recommend this course to our colleagues, say both Captain Sturesson and 2nd Lieutenant Licht simultaneously.