Finland will participate in the exercise Cold Response 2020 in Northern Norway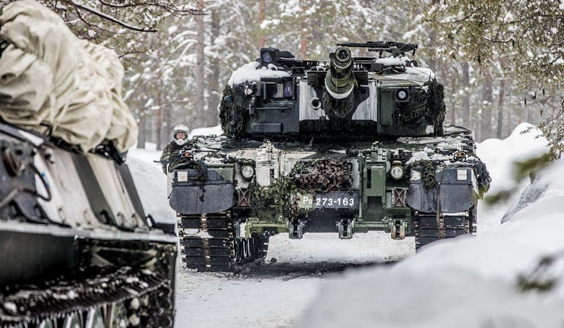 On 9-19 March 2020, the Finnish Army will participate in the winter exercise Cold Response 2020 led by the Norwegian Armed Forces in the region of Troms in Northern Norway. Participation in the exercise enhances Finnish Army troop capability, execution capability and readiness in operating in arctic and multinational operating domains.
Altogether 400 persons, including conscripts serving in the readiness unit and service personnel, will partake in the exercise. The main equipment of the exercise troops will consist of Leopard 2A4 main battle tanks. The participating troops will be mainly from the Jaeger Brigade and Kainuu Brigade. The exercise involves validating the international collaborating and operating capability of the conscripts undertaking military training. The exercise develops the Army readiness in receiving and providing host nation support as well as in massing and concentrating troops on the area of operation and at home garrisons.
A planned part of the bilateral cooperation between Finland and Norway as well as of the deepening defence cooperation between Finland and Sweden, participation in the exercise Cold Response 2020 improves interoperability between Finland, Sweden and Norway in the arctic operational domain in demanding cold-weather winter conditions.
A Norwegian-led main exercise in national defence, the exercise Cold Response 2020 (https://forsvaret.no/en/exercise-and-operations/exercises/cold-response) will be participated by more than 15,000 troops in total. Apart from Finland, the exercise will bring to Norway troops from Norway, Sweden, the Netherlands, Germany, France, the UK, and the USA. Conducted every second year, the exercise Cold Response was previously participated by Finland in the year 2016.
Participation in this exercise is part of the Finnish Defence Forces' international training and exercise activity in 2020 approved by the Ministry of Defence (Link: https://www.defmin.fi/puolustushallinto/kansainvalinen_koulutus-_ja_harjoitusyhteistyo).
The Army has partaken in exercise planning activity and set its ensuing national exercise objectives.
Undertaking bilateral and multilateral exercise activity in Finland and abroad develops the Army capability, execution capability, readiness, and connectivity, as well as providing and receiving of international assistance. The Army brigade-level units actively exercise with Swedish and Norwegian troops. Previously, the armies have exercised together widely as follows: in the spring of 2019, in the exercise Northern Wind 2019 in Northern Sweden; at the turn of November-December, in the exercise Arctic Shield 2018 in Rovajärvi; in the autumn of 2018, in the exercise Trident Juncture in Sweden and Norway; in the autumn of 2017, in the exercise Aurora; and in the spring of 2016, in the exercise Cold Response.
Follow the exercise!
You may familiarise with the exercise online with the hashtag #coldresponse. You may also follow Finnish troop activity on Finnish Army channels available online at
maavoimat.fi/coldresponse2020
Facebook.com/maavoimat
Twitter.com/maavoimat @maavoimat
Instagram.com/puolustusvoimat.fi