US Generals familiarised with arctic training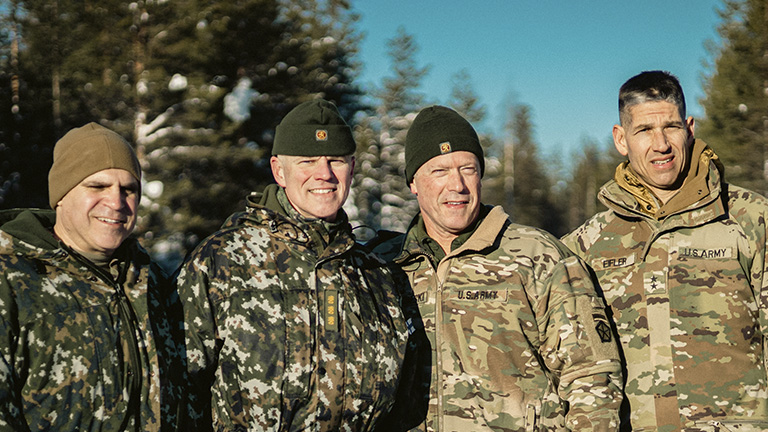 The visitors inspected the Jaeger Brigade's training event with Commander of the Army.
Commanding General of V Corps, Lieutenant General John S. Kolasheski, and Commanding General of the 11th Airborne Division, Major General Brian S. Eifler from the United States Army, and Brigadier General Joseph A. Dinonno from the Virginia National Guard visited Lapland this week. The visit was hosted by Commander of the Army, Lieutenant General Pasi Välimäki.
During the course of their visit, the generals inspected the Jaeger Brigade's training event that is participated by service personnel from the Jager Brigade as well as light infantry and battalion headquarters' elements from the US Army. The specialists in arctic training from the Jaeger Brigade instruct the participants in survival skills in winter conditions, combat techniques and sustainment of operating capability. Following the training, the US training audience troops participate in the local defence exercise North 1/23 in the region of Lapland this week.
- The training event is on a continuum of long-term cooperation between the Finnish Army and the US Army that further intensified in 2022. The objective of joint exercising is to develop our tactical interoperability in the arctic conditions of Northern Finland, Lieutenant General Välimäki said.
- It was an honor to meet with Lieutenant General Välimäki and be given the opportunity to see Finnish Defense Forces alongside U.S. Soldiers and other partners putting their knowledge and skills to use, said Lieutenant General Kolasheski.
- We can learn so much from training with them and exercises like Arctic Forge 23 give us that opportunity. This valuable training teaches us to be more survivable and lethal in austere environments.
Associated with the United States Armed Forces' Arctic Forge 23 training exercise concept, the training event is its only subsystem arranged in Finland. The strength of the international training audience detachment to the winter training held during 6.2.-7.3. will be up to c. 290 personnel.
- We are excited to continue training with our Arctic Allies and Partners, and we look forward to working with and learning from the Arctic experts from the Finnish Defence Forces, especially the Maavoimat, as we continue our role as America's Arctic professionals, said Major General Eifler.