Readiness unit in the Pohjoinen 18 exercise: demonstrating competence, quickness, and force
As part of the Pohjoinen 18 exercise, the spearhead of the Kainuu Brigade and Jaeger Brigade comprise readiness units that are formed of both professional soldiers and conscripts.
When serving in a readiness unit, conscripts undertake versatile Finnish Army training and advance their competence proficiency in inter-service-branch cooperating.
Overall, service branches and training fields featured in readiness unit training include a number of specialisation areas ranging from combat engineering to artillery, signals, and logistics service support, and also cover specialists such as snipers, reconnaissance scouts, and combat runners.
According to Commander of the Kainuu Jaeger Battalion, Lieutenant Colonel Tomi Pekurinen, the defining characteristics of the readiness units equal versatility of training and operating as well as 347-day training for qualification also in rank-and-file tasks, whereas jaegers and combat engineers training in other than readiness units usually undertake 165-day training.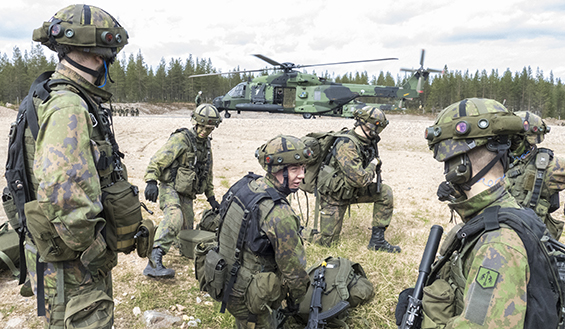 It was in December 2017 that the first conscripts of the readiness unit mustered out. Prospective conscripts continue to apply for readiness unit training eagerly, and those most optimal for the training get to be selected. The selection criteria include being physically fit, demonstrating resilience, and having the aptitude for further learning. Apart from specialisation in one's given service branch, readiness unit training entails continuing learning concerning other service branches as well.
- Obviously, being clever is a must, as we expect quickness in operating and competence in ordnance utilisation. Moreover, sustaining one's own motivation remains a key enabler in both learning and operating, Lieutenant Colonel Pekurinen points out.
As to Jaeger Brigade's Chief of Training, Lieutenant Colonel Ari Mure, the readiness units sustain continuous operational readiness. This means that, although conscripts spend time on leave, the unit on duty remains mentally and physically alert.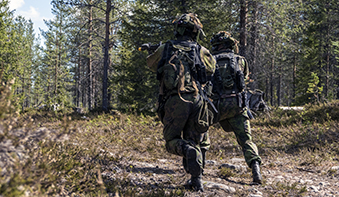 Providing the conscripts with novel and versatile training, the readiness unit training begins with a nearly six-month-long specialisation phase that is followed by further advancing relevant skills and knowledge.
If a conscript undertakes military training in a readiness unit, this will be viewed as a benefit while applying for tasks involving Finnish Army crisis management. Furthermore, conscripts serving in a readiness unit may partake in military training exercises as well as in exercises for inter-agency assistance both nationally and overseas.
- As such, readiness unit training provides skills necessary at work and while studying, competence in mental resilience management, sustaining physical fitness, and functioning as part of a community, Lieutenant Colonel Pekurinen explains.
Serving in the readiness unit results in tackling physical challenges and further developing one's physical fitness.
- This training provides life lessons and develops practical skills, mental resilience, and steadfastness. It is our deliberate decision that the conscripts serving in the readiness unit undertake physically strenuous training, Lieutenant Colonel Mure says.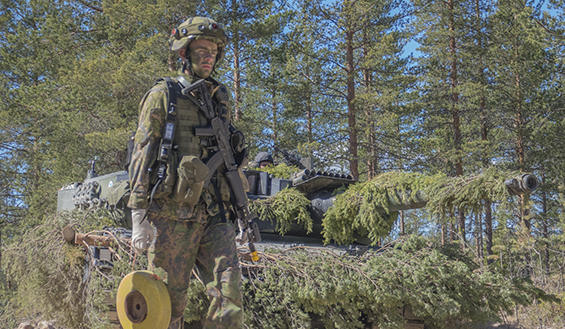 In the Pohjoinen 18 exercise, the readiness units have partaken in the military training exercise along the other participating troops and completed their live firing exercise as part of the inter-service-branch joint cooperating exercise.
- This Pohjoinen 18 exercise has turned out to be an excellent one. As a substantial mechanised adversary provided our units optimal training grounds, our readiness unit operated as part of the blue effort, and faced a sizeable enough adversary. Although the mission was not an easy one, our readiness unit was capable of operating well. And my educated guess is that our unit was everything but predictable from the adversary's viewpoint. All in all, our unit continues to sustain very good spirits thanks to its dedicated Commanding Officer and personnel, Chief of Training Lieutenant Colonel Mure remarks.
Nearly all Finnish Army brigade-level units feature readiness units comprising conscripts and salaried military personnel. With investments in equipment and combat gear, the training implementation follows the most novel and updated means. You may apply for readiness unit training by indicating this on the questionnaire form for prospective conscripts or during the basic training period.
See more about readiness units in: Pohjoinen 18 - Valmiusyksikön näytön paikka