National Air Defence Exercise 1/21 in Lohtaja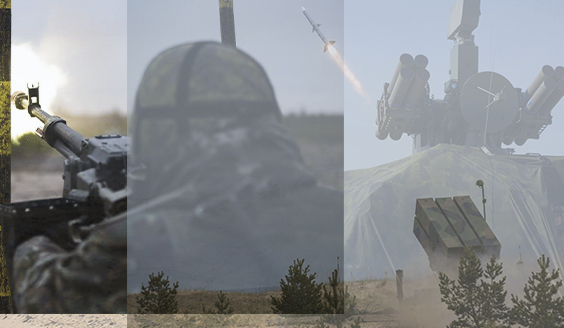 Organised in the Lohtaja range and training area from 17 to 27 May 2021, the National Air Defence Exercise 1/21 will be led by Inspector of Ground-Based Air Defence, Colonel Mikko Mäntynen. The exercise will be participated by units from all services. The total strength of the training audience will be up to circa 1,650 personnel, of whom slightly more than 100 will be reservists.
The training objective of the exercise is to increase the readiness and competence of reservists, conscripts and salaried service personnel in varied tasks of ground-based air defence as well as air defence considering the set operational requirements. In addition, the exercise develops inter-service joint cooperating between units from the army, air force and navy in missions of air defence.
Sequenced in two phases, the exercise comprises an LFX phase that runs from 18 to 22 May utilising live munitions, and a combat training LIVEX phase from 23 to 27 May that includes only blank ammunition. During the exercise, helicopter and other flight activity will be conducted from 18 to 27 May 2021 at all hours.
Motorised units will advance to the training exercise area within the following schedule on the following routes:
17.5. klo 5.00-17.00 Vekaranjärvi-VT15-Jyväskylä-Kokkola-Lohtaja marssinopeus 80 km/h
17.5. klo 7.00-16.00 Hattula-Tampere-Parkano-Seinäjoki-Kokkola-Lohtaja marssinopeus 80 km/h
18.5. klo 6.00-16.00 Vekaranjärvi-VT15-Jyväskylä-Kokkola-Lohtaja marssinopeus 80 km/h
18.5. klo 8.00-16.00 Hattula-Tampere-Parkano-Seinäjoki-Kokkola-Lohtaja marssinopeus 80 km/h
19.5. klo 8.00-17.00 Rovaniemi-VT 4-Oulu-VT 8-Kokkola-Lohtaja marssinopeus noin 80 km/h
20.5. klo 7.00-17.00 Vekaranjärvi-VT15-Jyväskylä-Kokkola-Lohtaja marssinopeus 80 km/h
20.5. klo 8.00-16.00 Hattula-Tampere-Parkano-Seinäjoki-Kokkola-Lohtaja marssinopeus 80km/h
21.5. klo 7.00-15.00 Rovaniemi-VT 4-Oulu -VT 8-Kokkola-Lohtaja marssinopeus noin 80 km/h
24.5. klo 7.00-16.00 Hattula-Tampere-Parkano-Seinäjoki-Kokkola-Lohtaja marssinopeus 80km/h
25.5. klo 7.00-16.00 Hattula-Tampere-Parkano-Seinäjoki-Kokkola-Lohtaja marssinopeus 80km/h
The exercise can be followed online at Maavoimat.fi/harjoitukset/Ilmapuolustusharjoitus 1/21
and on social media with:
Facebook Maavoimat #maavoimat #ilmavoimat #merivoimat #IPH21
Twitter @Maavoimat #maavoimat #ilmavoimat #merivoimat #IPH21
Instagram.com/puolustusvoimat.fi #maavoimat #ilmavoimat #merivoimat #IPH21