Army mechanised exercise Hammer 22 to start in Niinisalo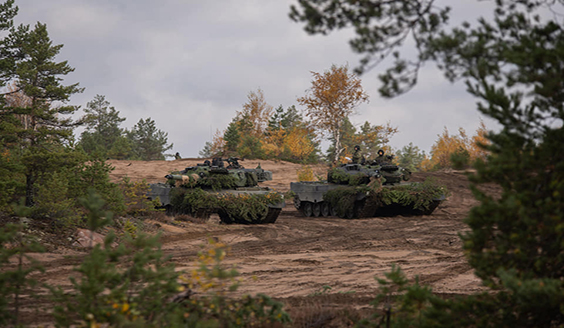 The Armoured Brigade will lead the Army mechanised exercise Hammer 22 at the Pohjankangas shooting and training area in Niinisalo from 31 October to 11 November 2022. Approximately 4100 persons will participate in the exercise, over half of them reservists. In addition to Finnish forces, troops from the U.S. Army will also take part in the exercise.
Troops from the Armoured Brigade, Pori Brigade, Karelia Brigade, Utti Jaeger Regiment, Army Command and the Defence Forces Logistics Command will take part in the exercise. The exercise will also involve flight operations of the Air Force and the Army.
The total strength of the exercise will be approximately 4100 persons including around 2500 reservists. The strength of the U.S. troops will be around 200. The exercise will be commanded by the Commander of the Armoured Brigade, Colonel Rainer Kuosmanen (31 Oct.- 6 Nov.) and the Chief of Staff of the Armoured Brigade, Lieutenant Colonel Hannu Koivisto (6 - 11 Nov.)
The objective of the exercise is to develop the mechanised units' operating with international partners, train the units to receive international assistance and provide host nation support, and enhance the Defence Forces' joint fires. In Hammer 22, the mechanised troops will train offensive and delaying operations with the American troops with the objective of developing the troops' rapid execution capability and cooperation between branches. This exercise provides versatile support for developing the Army's capabilities and the know-how of persons liable for military service, in particular reservists training for their emergency conditions tasks, on the individual and unit level.
- This autumn, exercise Hammer 22 is the main training event of the brigade-level units which train our mechanised troops. In the exercise, two strong battalions or battle groups will be fighting each other traditionally with simulator assistance ensuring the progressiveness of the exercise. The feedback obtained from each "combat" will be taken into account in the next situation. A significant number of reservists from several emergency conditions battle groups or battalions will be involved in the exercise. The additional funding received by the Defence Forces in the spring has a bearing on the scope of the exercise allowing the number of reservists to be trained to be increased. This time, an around 200 strong U.S. Army's mechanised unit equipped with M1 Abrams main battle tanks and Bradley infantry fighting vehicles represents the international element in the exercise. At the Pohjankangas training area, we are once again in for a two-week exercise productive and challenging as far as circumstances are concerned, says the Commander of the Armoured Brigade, Colonel Rainer Kuosmanen.
The training audience forces will be concentrated to Niinisalo by vehicle marches and train transportation. The detachments moving on the roads will be advancing at a speed of 50-80 km/h. While on the move, transports may slow down traffic and result in occasional congestion. The marching detachments will mainly use following routes:
Sunday 30.10.2022: Vekaranjärvi - VT 15 - Kouvola - VT 12 - Tammerfors E 12 (VT 3) - Ikaalinen - ST 261 - Jämijärvi - Niinisalo
Monday 31.10.2022: Parolannummi - E 12 (VT 3) - Tammerfors - E 12 (VT 3) - Ikaalinen - ST 261 - Jämijärvi - Niinisalo
Monday 7.11.2022: Huovinrinne - KT 41 - Huittinen - VT 12 - Kiikka - ST 44 - Kiikoinen - ST 44 - Kankaanpää - VT 23 - Niinisalo
Follow the exercise in social media:
Websites: https://maavoimat.fi/hammer-22
Facebook: Maavoimat - Armén - The Finnish Army, Panssariprikaati - Armoured Brigade
Twitter: @maavoimat, @PanssariPR
Instagram: @maavoimat