Army main exercise Kontio 22 to strengthen the competence of 8000 soldiers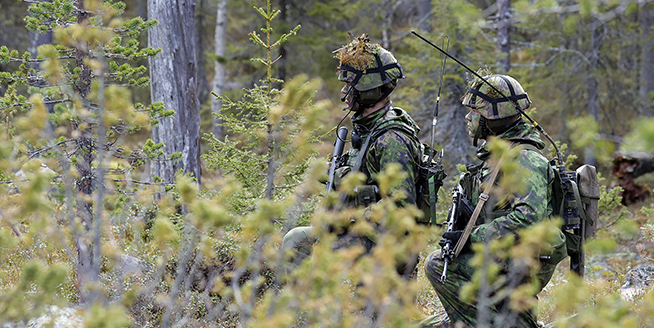 The Army's main exercise Kontio 22 will be held in Northern Karelia from 25 November to 2 December 2022. Approximately 2000 reservists will receive refresher training in the exercise. Some of them will serve as instructors for other reservists in the exercise.
The exercise will enhance the cooperation of the Army's capabilities and branches and the soldiers' readiness to operate in rapid situation frameworks together with Air Force and Border Guard troops. A total of 8000 soldiers will take part in the exercise, including approximately 4800 conscripts and 2000 reservists.
Kainuu Brigade, Pori Brigade, Karelia Brigade and the Armoured Brigade will make up the majority of the exercise troops. The Utti Jaeger Regiment, the Army Academy, the Defence Forces Logistics Command, the FDF C5 Agency, Air Force and the Border Guard will also be involved in the exercise. There will be no international troops participating in the exercise. The exercise will be directed by the Commander of Kainuu Brigade, Brigadier General Manu Tuominen.
– Included in the Army's Action Plan 2022, the main exercise will bring troops from across Finland to train in Northern Karelia in early winter circumstances. The exercise will enhance our ability to respond to rapidly evolving situations and enable cooperation training between different branches and command echelons. The exercise involves a significant number of reservists who get to train for their assigned tasks in a versatile manner as part of a larger force. Some of the reservists will serve as instructors for other reservists in the exercise, Brigadier General Tuominen says.
The exercise will be executed in the area between Outokumpu and Valtimo concentrating on the Sotinpuro training range. Exercise troops will also be present in Northern Savo (Iisalmi, Sonkajärvi). The troops will be moving to the exercise between 25–28 November from Kajaani, Pori, Hämeenlinna, Vekaranjärvi and Lappeenranta. A total of some 1400 vehicles will be involved in the exercise. It was in 2015 that an Army main exercise was last held in Northern Karelia.